Besides visiting the White Cliffs of Dover, there is loads more to do in Kent.
There are sandy beaches to bath at and water sports for those needing an adrenalin rush.
Catch a wave on your surfboard, do some kite-surfing or kayak in the secluded bays.
For those keen golfers, here is a chance to improve your handicap. Kent offers a few excellent courses.
Then there are castles, gardens and museums for you to visit on your trip to this great part of England.
When you visit the chalk-coloured White Cliffs of Dover, see if you can spot the buildings on the French coast.
To quench your thirst and get your fill on great food, Kent has some world-class cuisine including pub favourites, fine dining and some superb wineries.
Journey to a wonderful part of England that is Kent.
White Cliffs of Dover
"There'll be bluebirds over the White Cliffs of Dover tomorrow, just you wait and see…"
Vera Lynn the White Cliffs of Dover
In 1942, Vera Lynn released a song about the White Cliffs of Dover by Nat Burton and Walter Kent. The song was covered by singers from the US and Britain. The well-known song served as hope for soldiers that soon war would end.
You have either seen them in a movie or witnessed them while catching a ferry on the English Channel.
The White Cliffs of Dover are one of Britain's official icons and were also used by troops as a defence in both World Wars.
To get the best of these famous cliffs, take a walk along the cliff tops, breathe in the sea air and enjoy fantastic views of the ocean.
While you here, check out the different fauna and flora. Don't miss taking a few photographs of the wildflowers or the butterflies that hover about.
If shipwrecks are your thing, you will be able to see the remains of the SS Falcon, an iron-screw steamer which caught fire and ran aground in 1926.
To access the wreck, take the path down the Langdon cliffs. The wreck is still in good condition.
Another wreck you will discover on your walk of the White Cliffs of Dover is the Preuβen, which lies off Fan Bay.
On 7 November 1910, the vessel's officers had a speed miscalculation and it crashed into the RMS Brighton.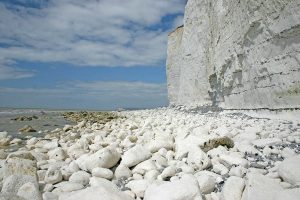 For a World War Two soldier experience, head to the Fan Bay Deep Shelter.
Here you will get kitted out with a hard hat and torch and venture through tunnels constructed as a means of defence in 1940 – 1941.
Get an idea of what it was like to be a troop deep beneath the White Cliffs of Dover while your tour guide keeps you informed.
Visitors will get a glimpse of two sound mirrors which were used to amplify sound and act as a warning for approaching enemy aircraft.
After your adventure through the tunnels, go to the South Foreland Lighthouse. Here you will get to see how the lighthouse' mechanisms work.
The lighthouse is used to warn ships approaching the Goodwin Sands. This sandbank is similar to quicksand and can be dangerous for ships.
The white chalk face cliffs are simply magnificent and should be on your wish of 'things to see'.
Things to do in Kent
Dover Castle
An enchanting castle that has more than 9 centuries of history is yours to explore. Go to the Great Tower where you will see what it was like to live like royalty in medieval times.
Once you have experienced royal quarters, go to the underground hospital. Get an idea of what it was like treating war patients underground and close to enemy attack.
It's here beneath the castle that 'Operation Dynamo was planned. During this operation on 4 May to 4 June 1940, British troops and allied forces were evacuated by civilian boats from Dunkirk, France to England.
Visitors will see film footage about the operation which gives you a real sense of the event. Dover Castle also served as headquarters in World War I.
See the gun drills and hear the story of Dover Castle during the First World War. The castle is well worth the visit.
Dover Transport Museum
The whole family will be entertained at the Dover Transport Museum. Everything from vintage cars to replicas of old streets will take you back in time.
Climb on a motorbike or explore one of the trains and browse around the model cars.
Stop in at the museum's café while the children immerse themselves in all that's around them.
Roman Painted House
Built-in 200 AD, the house formed part of a hotel used by travellers crossing the English Channel.
There are artefacts on display and frescoes to discover. This house is said to be the finest house of the Roman Period in England.
Dover Museum
Located in the centre of town, the Dover Museum gives great insight into Dover and its history. Not to be missed is the Bronze Age Boat.
The wooden boat was discovered in September 1992 and is about 3,500 years old. This boat is the world's oldest sea-faring boat.
Nine metres of the boat is on display at the museum. The entire boat couldn't be excavated as digging lead workers too close to buildings.
While you are at this exhibition, take a look at replicas, artefacts and models from the Bronze Age.
Go fishing at Sapphire Hoe
Drop your fishing line and catch yourself some fish on an outing to Sapphire Hoe.
Bring along a picnic basket and set yourself up at a spot to relax among beautiful scenery.
Take a walk through the reserve and spot some wildlife, do a bit of birdwatching or smell the flowers.
Pines Garden
Not far from Dover, located at St Margaret's Bay, this peaceful garden has a lake and trail for children as well as kitchen gardens with over 40 different types of fruit and vegetables.
Marlowe Theatre
If you feel like stepping away from the other attractions and want to watch a theatre show, Marlowe Theatre is a great venue that hosts touring shows and contemporary works.