What to do in Adelaide, Australia
Australia is a fantastic country to explore. Zoos, museums and the Great Barrier Reef. But in the south of Australia lies another gem. The city of Adelaide. It's sprawling with museums and other wonderful 'touristy' spots to check out. When you arrive, do a wine tour of Adelaide Hills or catch a game of 'footy' or cricket at the world-renowned Adelaide Oval. Need to feel the sand between your toes? Go to Aldinga, Henley or Glenelg beaches.  While you are at Glenelg Beach, pop down to the Holdfast Shores Marina, where there is fine delicacies and wine to tempt you. All this with a superb view of the ocean.
Here's a few things you can do while you stopover in Adelaide for either a few hours or a couple of days. G'day mate, this is beautiful, exciting Adelaide.
Spend time lazing about along the River Torrens Linear Trail… then head for the hills
Grab a picnic basket, blanket, and some snacks and head down to the River Torrens. This river runs from Adelaide Hills to Henley Beach and it's a popular spot to 'chill out' and catch some sunshine. If you feel like a bit of exercise, the trail is ideal for jogging and walking. While you are out and about, you may want to take a drive up to Adelaide Hills. Just a short drive from the city centre, Adelaide Hills is a sublime wine region and has some awesome pubs and galleries. Adelaide hills is a great combination of wine and bush. One minute you could be enjoying the sights of the hills and the next you minute, step in to a top-class vineyard. Meander through the orchards and then stop-off at a cellar to try out some wine. In addition to this, you can stop in at one of the many dining locations Adelaide Hills has to offer. You'll be spoilt for choice with winery restaurants, cafés and even feast on delicious cheeses.
Feed Kangaroos and hug a Koala
What is visiting a foreign country without a close encounter with some of its local animal inhabitants? At Gorge Wildlife Park you will actually be allowed to hold a Koala. Snap some cool photographs while holding your new fury friend and let the keepers teach you everything you have always wanted to know about one of Australia's most popular and most recognised creatures. Even better, on the last Sunday of every month, various animals at Gorge Wildlife Park are brought out for a personalised visit with visitors. Here you will be able to hold a rabbit and see Dingoes being walked. While you at the park, feed a kangaroo and hold snakes too. Birdwatchers will enjoy this park for sure. There are over 150 species of bird to get sight of. These include Emu, birds of prey and cockatoos.
If you feel like more animal encounters, go to Kangaroo Island. Drive onto a car ferry and then make your way by sea to the island. Feeling hungry? On your exploration to Kangaroo Island, you will taste delicious, mouth-watering fresh seafood. The crayfish is out-of-this-world, so go ahead and try it! There is fine dining and then there is the option of stretching out a blanket and settling down with a dish of good ole' fish and chips – don't forget a good beverage to go with it. Speaking of beverages, Kangaroo Island is home to a distillery where you will find liqueurs and cordials – don't leave the island without a bottle or two.
Get your sea legs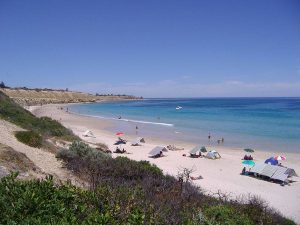 All aboard! A great way to experience the beauty of Australia is by touring South Australia by boat or mega-liner. Tour the wine regions, hop off at various ports of call and take in the sights and sounds of each location. There is an option for either half-day or full-day outings. A cruise promises to be memorable and what a great way to experience a different country's attractions. Departures are at Port Adelaide or Port Lincoln. Another option is to cruise Murray River. Along this river cruise, stop off at the enchanting towns and experience a bit of local cuisine and purchase gifts to take home.  Ships ahoy, adventure awaits!
Watch a game cricket match at Adelaide Oval
Adelaide Oval is classified as one of the world's most picturesque cricket grounds. Just behind the scoreboard, spectators can get a view of St Peter's Cathedral and large fig trees in the distance. The Adelaide Oval also hosts Australian Rules Football, otherwise known as 'Aussie Rules' Football matches.
Central Market with produce that's just heavenly
Cheese, yogurt, salami, the works! Established in 1869, the central market in Adelaide has earned the reputation as one of the largest undercover markets in the southern hemisphere. There is a massive range of fresh produce on offer. Meat, seafood, poultry and baked goods that will inspire your taste buds. Each month the market celebrates a particular food or drink – coffee, sweet treats and chili – you name it, it's there. Set aside a few hours to enjoy this attraction and take in the lively atmosphere. When you are done at the market, head to Chinatown which is next to the market.
Visit St Peter's Cathedral
This beautiful church which many people notice from the Adelaide Oval dates back to 1869. The cathedral features stunning glass windows. When you tour the cathedral, trace the history of the church by browsing through historic photographs. As you make your way through the cathedral, notice the sculptures on the main altar. These are sculptures of angels who all meant something to people of the church. A tour of the building is well worth doing.
Shopaholics head to Rundle Mall
Purchase the latest fashion trends, try the local eateries and people watch when you visit Rundle Mall. The mall is Australia's first pedestrian mall which was established in 1976. With over 700 retailers you are bound to find something for your wardrobe or a piece to add to your favourite collection. When you are done shopping and have worked up an appetite, frequent one of the fine restaurants or take a break beside one of the vendors to grab a quick bite before you go do more damage to your bank balance.  After your shopping spree at Rundle Mall, go over to Government House and well as the East and West End streets.
Originally posted 2016-06-13 17:51:00.