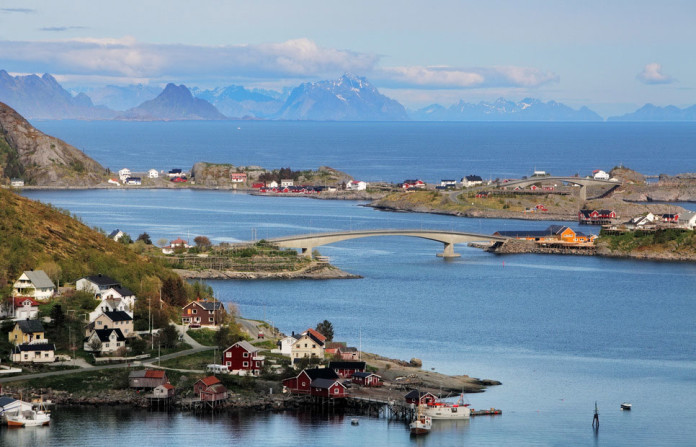 Famous for its plunging fjords and striking landscapes, the Kingdom of Norway is where nature is possibly at its most breath-taking. The name Norway, according to legend, comes from the old Norse word Norðrvegr which means "the way north". Don't be alarmed, however, as this does not necessarily translate into a year round freeze over. In fact, Norway can become quite hot in the spring and summer months, despite sharing the same latitude as Alaska, Greenland and Siberia. The summer solstice, also known as Midsummer is celebrated in Norway on the 23rd of June each year and you can almost always find locals on one of the beaches on this evening enjoying the festivities in shorts around a bonfire. It's not all ice in Norway!
And neither are the people. Reserved but still friendly, local Norwegians are helpful to lost travellers in need of guidance. They are more often than not willing to show you the cheapest option of getting around a town or the best place to find a scrumptious meal. While Norway is one of the most expensive destinations to travel to, making friends with the locals will help your pocket in the long run and you will be able to experience Norway's culture and lifestyle more intimately. Remember, nature is always free and abundant in Norway, so for those who enjoy hiking, cycling or water sports, this is where you'll find a home away from home.
Norway, including its 50 000 plus islands, has a total land area of 385 252 square kilometres (148 747 square miles), where just over five million people reside. The country shares borders with many others. Its eastern border is with Sweden, its neighbours to the north-east are Finland and Russia, with Denmark towards the south. The Gulf Stream and its resulting warm air currents mean that Norway has a pleasant climate and the coldest areas in the winter are often inland or at those places in the far north.
Unfortunately in winter, the sunrise can be at nine o'clock in the morning with the sun setting in the early afternoon, which can make for much shorter days. However, it makes for wonderfully cosy evenings by fireplaces, fantastic opportunities to experience the magnificent greens and pinks of the Northern Lights and early dinners by candlelight where travellers can try out traditional Norwegian cuisine.
Goat cheese is one of the most popular items Norwegians enjoy putting on bread and is consequently linked strongly to their identity, particularly that of brown whey cheese made from goat's milk – it tastes similar to caramel but with a sharp edge to it. Or the likes of "fårikål", which means sheep in cabbage, can be had in autumn and is a delicious offering of mutton or lamb with cabbage and whole peppercorns, served with potatoes.
What this means conversely, however, is that in the summer months the sun never really sets beyond the horizon in areas north of the Arctic Circle and during this time, Norway can experience 20 hours of daylight. This provides for ample time to adventure through Norway, experiencing her nature in places such as the Lofoten Islands and culture in the capital, Oslo. If you're travelling during summer, you'll want to make sure you find accommodation with heavy curtains or blinds, however, most places are kitted out for these variations in sunlight. The "Land of the Midnight Sun" is not a name given to Norway for no reason.
According to the English First Language Proficiency Index, which indicated the performance of 63 non-Commonwealth countries in 2014, Norway dropped to fifth ranking. Nevertheless, for the sake of the traveller, in comparison to other countries, this is a country where you will almost always find someone who can direct you in English. There are three official languages in Norway, these being Norwegian, Bokmål and Nynorsk.
The local currency in Norway is the Krone, which is fairly strong and means most travellers need to save up for this trip of a lifetime, despite there being budget options if one plans carefully beforehand. Norway's four dependent territories, Svalbard, Bouvet Island, Queen Maud Island and Peter I Island, also use the Krone. At almost eight Euros at this time, the traveller will receive one Krone, however, changes in this are frequent as the Krone is heavily dependent on oil prices with one of Norway's major extractive industries being that of crude oil.
Norway is one of the safest places to travel. However, there are some precautions travellers may want to take such as vaccinations for Hepatitis A and B, and rabies which is found in bats. These, however, are not compulsory but recommended. Depending from which country you are travelling, there may be extra vaccinations required and this needs to be completed before leaving your home country.
Must see places in Norway:
The fjords
Of all the fjords one can travel to, the western fjord of Nærøyfjord is possibly the most spectacular, with Nærøyfjord having been listed as an important UNESCO World Heritage Site. A fjord is a geological name for a long, narrow inlet with steep cliffs created by the erosion of glaciers. This is an easy day excursion from the town of Flåm through Nærøyfjord to Gudvangen and back again. From the southern wall of Nærøydalen valley, above Gudvangen village, cascades the crystal clear Kjelsfossen waterfall. If you want to stay the night at Gudvangen there is plenty of accommodation from hostels to luxury hotels.
Take a guided walk from Vingen, close to Norway's tallest cliff, Hornelen, through geological formations distinct to this landscape and dating back to the Devonian Age. Cross the Ålfotbreen glacier via the mountain cabins at Blåbrebu and Gjegnabu, spiralling down to the Hyefjord. This is just one walk that can be taken amongst many others along any of the other Western fjords, a key part to any traveller's visit to Norway.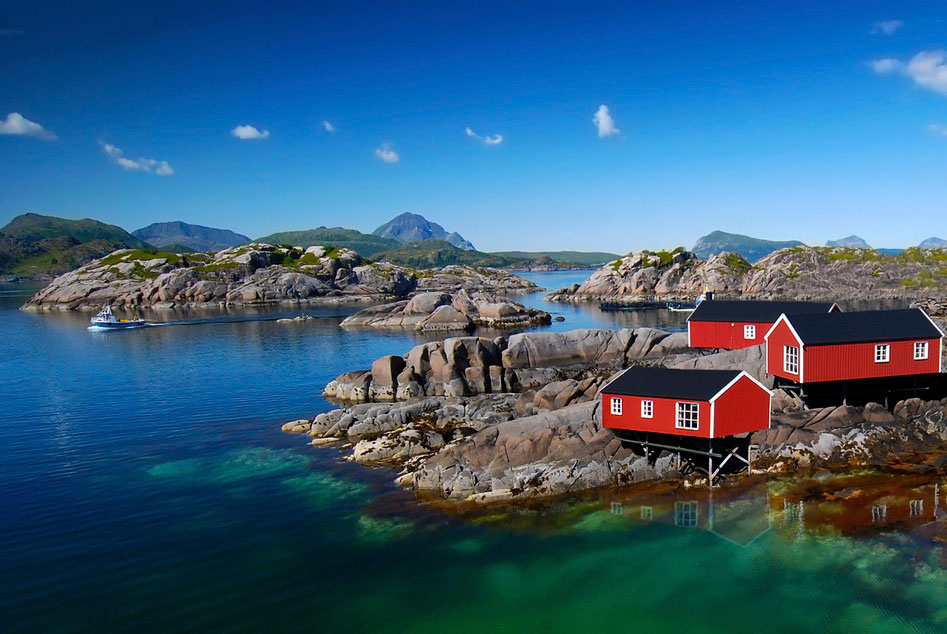 Northern Norway
Whale safaris can be organised off the coast of Tromsø,  where pods of killer whales can be followed on a boat through the waters of the Atlantic Ocean. Experience families of these magnificent creatures up close on this two hour tour. Despite the warming effect of the Gulf Stream, it can get cold and so it is advised to bring warm, waterproof clothing for the trip. If you go on an evening safari in the autumn and winter seasons, be sure to look up and catch a glimpse of the mystical Northern lights.
The archipelago of Lofoten is a paradise for nature lovers. Take a kayak and hop across to some of the different islands, enjoying the sights and sounds far above the Arctic Circle. Slightly colder here in the north as compared to other regions of Norway, it is recommended that the traveller takes warmer clothing, even in the summer months. Bring or hire a thick wetsuit and go surfing in one of the world's northernmost and perhaps surprisingly best surfing spots. Or go scuba diving to experience the wonders of the ocean. The area's diverse landscape make for amazing hikes and walks, as well as the ocean coastline being apt for fishing and various other water activities.
Oslo
Oslo attracts tourists looking for a more urban experience of Norway's culture and modern lifestyle of local people. It has several major museum and art galleries, including The Munch museum which famously houses The Scream by renowned artist Edvard Munch, and the National Museum of Art, Architecture and Design. The Sami People or Laplanders, are indigenous to Norway, and their culture and history is celebrated in museums across Norway, such as the Folkemuseet in Oslo which is dedicated to Sami dress and culture, as well as Viking culture.
Oslo is not just a concrete jungle, however, as it is surrounded by forests and over 40 islands that make it Oslofjord. The inner city is lined with trees and parks, which, in the summer are free to be camped in and this enables the traveller a different way to experience the big city in a way that saves the pocket.
Norway travel tips:
Ask for help from local Norwegians.
Use local buses, trains and places as these work out cheaper than hiring cars or using taxis.
Feel comfortable to dress informally; shorts and bikinis in the summer, and coats and denim jeans in the winter.
Don't be offended by the directness of Norwegians – they are a nation that does not "beat around the bush".
Don't display strong emotions, such as getting angry if someone does not understand you, as the Norwegians are reserved and appreciate the same behaviour.
Be punctual when arriving at appointments made with locals; tardiness is not respected.
Alcohol is consumed modestly and there are certain restrictions to take note of such as, beer is sold to people over the age of 18 and spirits to 20-year-olds.
Norwegians eat whale meat and unless you want to engage in a possibly heated discussion, rather don't question it.
Useful words/phrases in Norwegian:
Hello – hallo (haa-llo)
Goodbye – farvel (
Please – vennligst (venn-lig-st)
Thank you – takk (ta-kk)
Do you speak English? – Snakker du Engelsk (snak du eng-lisk)
Yes – ja (ya)
No – nei (naa-ee)
Originally posted 2015-12-22 18:30:07.