Germany is often thought of as a somewhat homogeneous country, more or less the same wherever you go, but nothing could be further from the truth. In fact, Germany is the largest country in central Europe, and it's diverse in terms of its people, geography, and culture.
Where to Go in Germany
Germany's 16 states, including the three city-states of Berlin, Bremen, and Hamburg, can be grouped into five main regions—east, west, north, south, and central Germany.
Northern Germany includes the cities of Bremen and Hamburg, and as this region is on the country's coast, some of its more popular holiday destinations are on the North Sea and Baltic Sea. Inland, there are rolling hills, large stretches of farmland, and many small towns and villages dotting the countryside.
The western part of the country is dominated by wineries, including those in the gorgeous Rhine Valley, and the Moselle Valley. One of the largest cities in this region is Cologne, situated along the Rhine river. The residents are very proud of their city, with a friendly and welcoming nature that makes travelling in the region particularly enjoyable. In central Germany, the largest city is Frankfurt, which is Germany's financial centre. As such, it's a city of very strong contrasts, with centuries-old buildings still standing alongside modern skyscrapers.
The capital city of Berlin is located in the east, along with the cities Brandenburg and Dresden. Berlin isn't just Germany's capital; it's also widely regarded as the European capital of culture, with a thriving nightlife scene that's second-to-none, an enormous number of museums and galleries, and many historical monuments. In the south, Bavaria is typically what tourists think of when they consider Germany, particularly due to the region's strong association with German beer. Also in southern Germany is the Black Forest, a popular destination for travellers looking for outdoor adventures.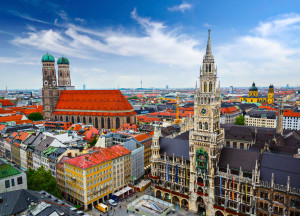 What to See and Do
Rhine Valley
Visit the Rhine Valley, one of Germany's most beautiful natural landscapes. Also famous for its many wineries, castles, and villages, this scenic location is a favourite holiday destination for German travellers as well as visitors from other parts of the world.
Hamburg
Hamburg has a large number of museums and galleries, including the fascinating Museum of Arts and Crafts, which showcases work from all over the world, spanning many centuries.
Hamburg also has an extensive network of waterways and bridges, which can be toured via boat or ferry.
Bremen
Bremen is one of the most historically important cities in northern Germany, with well over 1,200 years of history and many buildings that are almost as old as the city itself. The Cathedral of St. Peter, for example, is more than 1,200 years old, with an enormous tower and a gorgeous painted ceiling.
Cologne
Cologne is home to many festivals and carnivals throughout the year, including the Winter Carnival in February, the Cologne Lights in July, and the Christmas Markets in December.
Frankfurt
Frankfurt's museums are highly diverse, and include museums featuring architecture, film-making, arts, sculpture, ethnography, communications, and iconography.
Just south of Frankfurt is a large forest, of nearly 50 square kilometres. The biggest inner city forest in Germany, it's a great place for families, with half a dozen playgrounds and several ponds.
Bavaria
When in Bavaria, do as the Bavarians do, which means visiting at least one beer garden, during the April to October season. Bavaria isn't only a place for drinking beer, of course,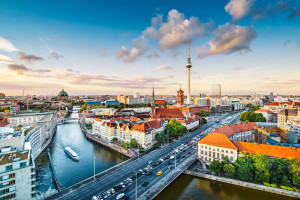 and there are many family-friendly attractions in this region, including some spectacular castles.
In October, thousands of beer aficionados from all over the world converge on the Bavarian city of Munich for Oktoberfest, a tradition that is now more than 200 years old.
The Black Forest
Head to the mountainous terrain of the Black Forest for activities such as hiking, lake diving, mountain biking, skiing, snowboarding, paragliding, and a variety of water sports.
The Black Forest region is somewhat known for its cuckoo clocks, which feature prominently at a museum in the small city of Furtwangen.
Romantic Road
A particularly popular scenic drive is the Romantic Road, located in southern Germany, between the towns of Wurzburg and Fussen. Along the route are several small medieval towns, and the spectacular fairytale castle of Neuschwanstein, which served as the inspiration for Disney's iconic castle.
Need to Know Info
The official currency of Germany is the Euro, and the official language is German. Most Germans do speak at least a little bit of English, so travellers who learn some basic German words and phrases will find it relatively easy to communicate with people.
Germany Weather
Germany's climate is a mostly moderate maritime climate, with warm summers and mild winters, particularly on the coast. Further inland there is typically more seasonal variation in the weather, with warmer summers and colder winters. Temperatures rarely exceed 25 degrees in the summer, or drop more than a few degrees below 0 in the winter.
Getting around
Most travellers who enter Germany by air land at airports in Frankfurt, Munich, or Dusseldorf, although there are other international airports in Berlin, Cologne, Hamburg, and Stuttgart. Generally, travellers from Europe may opt to travel to any of the international airports, while travellers from the rest of the world typically land in Frankfurt or Munich. Most international airports have a direct or indirect connection to the country's high speed railway line. Travellers can also enter the country by train and bus, and a small number of ferries travel between German ports and ports in other countries such as Sweden, Lithuania, Norway, and Denmark.
Visas
Germany participates in the Schengen Agreement, which means that residents of other participating European countries do not require a visa to enter the country. Residents of several other countries, including the UK, US, Australia, New Zealand, Japan, Israel, and Canada, do not need a visa to enter Germany for a stay of up to 90 days.
More info on transport
Germany's trademark efficiency extends to its public transport system, with a fast and extensive intercity railway network, and a comprehensive long-distance bus network, that make getting around the country easy. Car hires are readily available airports and most cities.
Originally posted 2015-11-17 20:09:13.