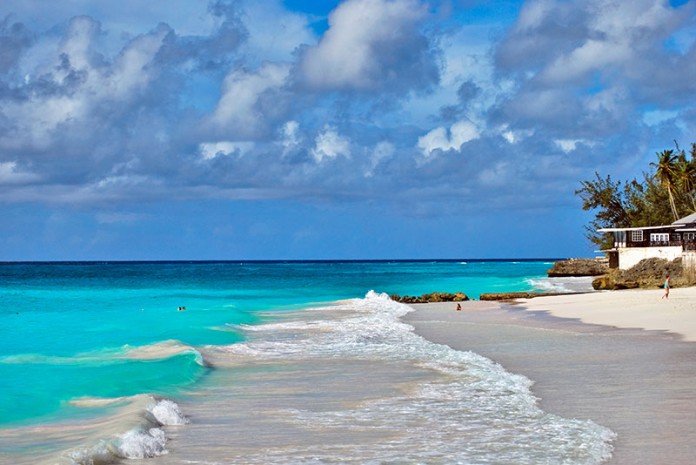 As a holiday destination, Barbados is nothing less than a tropical dream.  With more than 92 miles of stunning white and golden-sanded beaches lining the coast, flanked by bright and clear blue water that sparkles in the Caribbean sun.  Barbados holidays will leave you mesmerised.
Whether your ideal holiday is a family getaway at a quiet resort, an exploration of the island and its many treasures, or a mix of long lazy days by the beach followed by nights out at local clubs, Barbados is the perfect island destination and voted as one of the world's best islands.
Where to Go in Barbados
Bridgetown, located in the south-west-central part of the island, is a must-visit even if you're staying elsewhere.
The capital is located in St. Michael Parish (Saint Michael Barbados), where there are plenty of fantastic attractions to visit here. Shop on Broad Street, where you'll find an eclectic mix of luxury boutiques, local craft shops, and street vendors.  Visit some of the historic locations such as the Military Prison, now a fascinating museum.
The island's west coast includes the parishes of St. James, St. Peter, and St. Lucy, and with its deluxe hotels and resorts, this is the place for go for luxury holidays in Barbados. With an array of up-market shops, bistros, and nightclubs, this area is nicknamed the Platinum Coast, and it's not uncommon to see celebrities living it up on this part of the island. The western region of the island is also ideal if you prefer the advantages of private accommodation; the Platinum Coast is packed with villas and homes, so it's perfect for villa holidays in Barbados as well as resort-style getaways for singles, couples, and families.
Parishes
Five parishes make up the eastern region of the island; those of St. Andrew, St. George, St. John, St. Joseph, and St. Thomas. There's plenty to see and do both on the coast, and inland, with several historic sites and natural attractions, and a good mix of accommodation options, including tiny bed-and-breakfasts and hotels, and private beach houses as well as larger hotels in the coastal town of Bathsheba. This is definitely the peaceful side of the island, perfect for quiet relaxation and long, sun-soaked days on the beach.
The southern region of Barbados is home to two parishes: Christ Church and St. Philip. In the south of this region is St. Lawrence Gap, a busy town with a great range of restaurants, clubs, and bars, as well as a small resort area called Maxwell, which is located nearby. Quieter than neighboring St. Lawrence Gap, but still within walking distance, Maxwell is definitely the best of both worlds, ideal if you want to relax during the day and enjoy the party atmosphere of St. Lawrence at night.
There are several resorts all over the island, perfect for family holidays in Barbados. Family-friendly resorts such as the Bougainvillea Beach Resort at Maxwell feature games and activities as well as babysitting services for parents who want to enjoy some quiet time. For self-catering families, a villa holiday is ideal, and there are self-catering hotel options too, such as the Southern Palms Beach Club hotel, situated right on the beach at St. Lawrence Gap and offering plenty of great activities.
Things to do in Barbados
Take a walk around Bridgetown to get acquainted with the Barbados lifestyle, and enjoy the beauty of this UNESCO World Heritage Site. Most locals are very friendly, making it a real pleasure to tour the city on foot.
There are many locations

perfect for watersports of all kinds

; surfing on the east and south coasts, as well as windsurfing, kite surfing, and sailing. Package holidays in Barbados may include one or more activities, depending on where you book, making it even easier to enjoy the sun and sea.
One of the most famous surfing spots is located on the north-east coast; known as the Soup Bowl, it's strictly for experienced surfers. It's well worth a visit even for non-surfers, thanks to the gorgeous coast and the fabulous restaurants that line the beach front.
A catamaran cruise offers the opportunity to head out on the water to see turtles, and some will allow you to go snorkelling off the boat to swim with turtles or explore underwater wrecks. These tours are mostly available in main cities such as Bridgetown.
Scuba diving is another popular water pastime, thanks to the incredibly clear waters around the island. There are tour operators all over the island, for all skill levels, so if you're a beginner don't let that hold you back.
The truly adventurous can head to Jack-in-the-Box Gully, in St. Thomas Parish, where you'll have the opportunity to zip-line over a tropical forest. Incredible views and an incredible thrill too.
In St. Joseph's Parish, explore the lush and colourful oasis that is Hunte's Garden, or head to the Andromeda Botanic Gardens, six luscious acres of orchids, ferns, palms, hibiscus, and other tropical plants.
Head to St. Thomas Parish to see Harrison's Cave, a huge cavern of sparkling limestone, or nearby St. George Parish to Gun Hill Signal Station, once a British lookout point and now offering some of the best views of the island.
Need to know info for holidays
English is the country's official language. The currency is the Barbados dollar; while some shops and taxi drivers may accept American dollars it's better to assume that Barbados dollars will be required when you're paying in cash.
Barbados weather is consistently warm all year round, usually in the high 20s, but there's some seasonal variation in humidity, as there tends to be slightly less rainfall between February and May.
Most visitors fly to Barbados, landing at Sir Grantley Adams International Airport near Bridgetown. Residents of many countries—including the UK, USA, and most countries in South America and Europe—don't need a visa to enter Barbados, but it's still a good idea to check before making your plans for holidays in Barbados. Note that even if you don't need a visa, you do still need a valid passport.
Once in Barbados, you can get around via bus or taxi, or by renting a car, moped, or bicycle. The bus system is ideal for travelling to main centres and activities, but a taxi or car rental is sometimes the only way to get off the beaten track.
Barbados Hotels
Waves Hotel & Spa by Elegant Hotels, Prospect Bay, St. James BB23000
The House by Elegant Hotels in Saint James Parish
Port St. Charles, Saint Peter Parish, Heywoods
Barbados much to do and see
If you're looking for a fun-filled vacation, Barbados is the perfect place to go. From its sandy beaches and clear blue waters to its lush rainforests and friendly people, Barbados has something for everyone. Visitors can take part in a wide range of activities, including swimming, hiking, shopping, and dining. There is also a lively nightlife scene, with many bars and clubs to choose from. And no trip to Barbados would be complete without exploring its rich history and culture. Whether you're seeking relaxation or adventure, Barbados is sure to exceed your expectations.
The beaches are beautiful and there are plenty of activities
The beaches are one of the most beautiful natural settings that exist. The sand is soft and white, the water is clean and clear, and the sunsets are simply breathtaking. In addition to being visually stunning, beaches also offer a wide variety of activities to keep you busy. From swimming and sunbathing to building sandcastles and exploring tide pools, there is something for everyone to enjoy. Whether you are looking for a relaxing day by the ocean or an adventurous afternoon in the surf, the beach is the perfect place to spend your time.
The people are friendly and welcoming, and the food is delicious
If you're looking for a warm and welcoming place to enjoy some delicious food, then look no further than your local community. The people are friendly and hospitable, and the food is simply mouth-watering. Whether you're in the mood for a hearty stew or a light salad, you'll be able to find something to suit your taste. And if you're looking for a little bit of everything, then you'll be spoilt for choice! So next time you're in the mood for a meal out, be sure to head to your local community – you won't be disappointed.
You can find all kinds of accommodations, from luxurious resorts to budget-friendly hotels
Traveling can be an expensive endeavor, but with a little planning it doesn't have to break the bank. One of the biggest expenses when traveling is lodging, but there are a variety of options to fit any budget. Hotels are typically the most expensive option, but there are a wide range of prices depending on the location and amenities. For those wanting a more luxurious experience, resorts offer upscale accommodations and usually include features like swimming pools, spas, and restaurants. For those on a tight budget, there are a number of affordable hotels that offer basic amenities like a bed and bathroom. There are also a number of websites that allow you to compare prices and reviews for different lodgings. By doing a little research, you can find the perfect place to stay for your next trip.
There is something for everyone in Barbados, so you're sure to have a great time!
From its Rum to its Reggae, Barbados offers an intoxicating blend of culture and natural beauty. This Caribbean gem is a perfect place to relax on one of its many pristine beaches, or explore its vibrant nightlife. There is also a wide range of activities to enjoy, from snorkeling and hiking to golf and horseback riding. Whether you're looking for a laid-back vacation or an action-packed adventure, Barbados has something for everyone. So pack your bags and head to this island paradise – you're sure to have a great time!
Barbados is the perfect place to go for a holiday. There are beautiful beaches, plenty of activities, and friendly people. The food is delicious, and you can find all kinds of accommodations. You're sure to have a great time in Barbados!
Originally posted 2022-07-11 18:15:13.