West Virginia almost Heaven? Definitely.
Spending a summer in West Virginia is a brilliant idea. Green trees, beautiful (and very cold) lakes and the warmth of the sun are just a few things that will compel you to pack a suitcase and travel to the Mountain State.
Not to mention, the people are friendly and the food – let's just say you will return home a few pounds heavier. But that will all be worth it.
If you are in the mood for something different, head to one of the adventure parks in Harpers Ferry. Where you can either crawl through tunnels that almost seem to hang in mid-air or zipline through trees while admiring the wonderful view.
Rock climbers, Seneca Rocks should be on your bucket-list of things to do in West Virginia. The hike up to the peak is relatively easy with quite a few places to rest along the way. Be sure to include camping, hiking, fishing and even white water rafting into your holiday activities.
While you are here, learn some of the local lingo. You would be surprised to know the folk in West Virginia call a fried egg a 'dippy egg'. The waitress will think you are from Mars if you ask for a fried egg, so get the hang of the terms they use.
"Country roads take me home, to the place I belong, West Virginia…"
(Country Roads – John Denver)
Get weather wise for your trip
Temperature wise in summer, the state has an average high of 27 degrees Celsius. But temperatures do exceed 30 degrees on a really hot day. So pack in sunscreen and your sunglasses!
Winter is a totally different story. If you are keen on the cold, then you have come to the right place. The average high ranges from 5 degrees Celsius in January to about 23 degrees Celsius in June.
Minimum temperatures during the winter months can drop to as low as -3 degrees Celsius.
Things to do in West Virginia
Check out the impressive State Capitol…
A tall, magnificent dome stands 293 feet high above the ground overlooking Charleston, which is the capital of West Virginia. The capitol is made up of nine different types of marble. And the legislative desks are the original desks which were first used in 1932. The chandelier situated in the dome weighs a mammoth 4,000 pounds and shines light power equivalent to 15,000 candles. The dome of the capitol is covered in copper and decorated with gold leaf. Tours of the state capitol depart from the first floor. Tours start every half hour from 9am to 12pm and from 1pm to 3pm – Monday to Friday. The Supreme Court of West Virginia is located on the East Wing. Reservations must be made ahead of the Supreme Court tour.
Head to Snowshoe for thrilling fun
Need an outdoor adventure? Snowshoe Mountain Resort is ideal to get the adrenalin pumping and feel the wind in your hair.
Go on an off-road tour of some wonderful scenic areas in a 4-seater Polaris RZR. Here will be taken into the mountains and see panoramic views many people only dream of.
Feel like some snow adventure? Take a snowmobile tour where you will be able to take in the scenery and slopes you skied all day. Even better, there is a night snowmobile option.
This is an exhilarating experience! You will be able to say you toured West Virginia under the dark night sky. Snowshoe's most popular tour is the Basin Tour. So make sure you book a spot.
Another option is to hit the slopes sled style. Instead this time you will be 'sledding' on a tube. The park consists of a 6-story high, 8 lane tubbing hill that will undoubtedly provide plenty of laughs and thrilling shrieks of fun.
When the snow is over, there is still loads of activity at Snowshoe. Go on a trail with a trusty horse and cross streams, travel old log roads, ride along forest trails or get a glimpse of wildlife while you're on horseback.
To escape the summer heat, Split Rock Pools will provide hours of cool entertainment. With both indoor and outdoor pool areas, you are bound to either relax while looking at sublime vistas or have a bit of fun.
If you are in need of a pamper session, visit the Spa at Snowshoe and unwind and be pampered in luxury.
Soar high above the mountains in a Balloon
The University Motors Mountaineer Balloon Festival takes place from 26 September to 2 October. This is your chance to see West Virginia at its best, way up in a colourful hot air balloon. There are even evening balloon rides that light up the night sky.
Jump or rappel down New River Gorge Bridge – not for the faint-hearted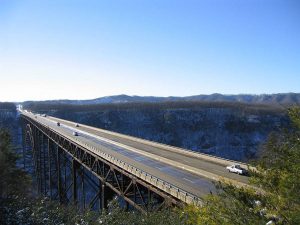 Experienced parachuters and rappelers get your gear on for the thrill of your life. Attend Bridge Day where you will be able to plunge down 876 feet from the New River Gorge Bridge. If you are not experienced and still want the thrill, there is a tandem jump option available. Make sure you book early.
Experience West Virginia's natural wonders
Get away from the busy attractions and head off to one of the most diverse national forests in the US at Monongahela National Forest. Quiet country roads, streams and sightings of plants and wildlife will create unforgettable memories as you spend time among nature.
The park is accessible even though it may seem rugged and wild. There is a range of activities for you to enjoy when you visit the forest. Take to a mountain bike trail, do some rock climbing or go fishing. Hunting is permitted in Monongahela National Forest. Make a weekend of your adventure and rent a cabin or stay at one of the camping grounds. Up for a scenic drive? Then head to Williams River and the Highland Scenic Highway.
Wildlife enthusiasts will be glad to know the forest is home to black bear, various birds and whitetail deer. Remember to keep a safe distance between yourself and wildlife.
Go rafting at Gauley River
Get ready to get soaked! Gauley River is classified by many rafters as one of the top ranked rivers for rafting and paddling in the world. The technicality of the rapids together with the stunning scenery make this river the ultimate destination for adventure sports.
Gauley River offers you a world-class river rafting experience that will leave your heart in your mouth – well almost. To fully enjoy your river rafting outing, a 2-day rafting trip is recommended.
Originally posted 2016-06-06 18:25:04.