Leave your heart in San Francisco
I left my heart in San Francisco
High on a hill, it calls to me
To be where little cable cars climb halfway to the stars
The morning fog may chill the air, I don't care
– "I left my heart in San Francisco" (Tony Bennett)
Yes, you definitely want to leave your heart in San Francisco. In fact after you have spent time in this remarkable city in the state of California, you won't want to go home. Take in the many sights to visit and experience. While you visit this vibrant city you may even want to try out hand-crafted cocktails, and feast on fine American cuisine. There is an element of excitement that wells up inside you as you hop on a cable car, frequent the cafés and walk through Chinatown.
One thing is for sure: your heart will never be the same after a visit to San Francisco!
Things to do San Francisco
Take a walk on Golden Gate Bridge
No it's not a gold bridge at all, but rather the colour of rust. It's said that Golden Gate Bridge is one of the most photographed images on Earth. You can't say you have been to this spectacular city without walking along the bridge, or driving over the bridge for that matter. The 746 foot towers, gleaming in the sunlight won't fail to disappoint. The red-orange towers are simply magnificent with the added view of the Pacific Ocean. There is a sidewalk on the bridge for pedestrians who wish to walk the 1.7 mile-long bridge. For those wish to cycle the bridge, there is bicycle hire at the Golden Gate Bridge Plaza.
Enjoy a picnic in the Presidio
Previously a military base for three nations, The Presidio is a park where locals and visitors enjoy live music and time in the sun from April through to October. Food trucks and vendors dote the area and there are people milling around enjoying the beautiful vistas. Take a walk along the historic airfield or head into forests and to the beach. Even better, enjoy dinner by lantern light on a Thursday evening from May through to October. Lantern-lit cabanas, fire pits and cocktail service while relaxing on a blanket are the order of the evening. This is must-do on your San Francisco adventure.
Ride a cable car
There is no better way to get a great view of San Francisco than from a cable car. There are three cable car lines that run through Nob Hill, Bay Street and Fisherman's Wharf. There is also a line that runs through California Street, Mason and Washington streets. For a bit of history, visit the Cable Car Barn where you will get to see actual cable car winding machines. While you're in San Francisco, should you hear bells ringing, you are hearing the sound of the cable cars in operation. If you are lucky you may just get serenaded by a cable conductor.
Go on a tour of Alcatraz Island
Previously a prison to some of America's most notorious prisoners such as Al Capone, today Alcatraz is a museum. Commonly referred to as 'The Rock', Alcatraz was first a light house station and then it was decided its location was perfect for a penal colony. While you are here, take an audio cell tour that is narrated by former prisoners and guards. Here you will learn about life at Alcatraz and the many escape attempts by prisoners. Besides Alcatraz, the views from the ferry on your way to the island are spectacular.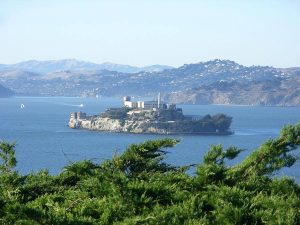 Watch a baseball game at AT&T Park
Whether you are a baseball fan or not, a visit to the home of the San Francisco Giants should be on everyone's itinerary. Situated right on the bay, this park offers visitors and baseball enthusiasts the ultimate baseball outing. Try some garlic fries and Sheboygans or crab sandwiches – they are legendary! Tickets for the Giant's games are almost readily available at the ballpark ticket office. There are often people selling tickets outside the park.
Try some real Italian Pizza
Not many people can say they have actually tasted world-class Pizza. Well, you can when you visit San Francisco. Tony Gemingnani is the first American to win the World Championship Pizza Maker title held in Naples, Italy. Be sure to drop into his pizza restaurant which is a favourite among many locals in and around North Beach. Smouldering delicious cheeses baking, an award-winning Margarita pizza and plenty to keep your mouth watering will have you coming back again and again.
While you are in the vicinity, head out to surrounding North Beach, which is San Francisco's Italian Quarter. There are some superb cafes and restaurants as well as shops. Go to Washington Square, Grant Avenue as well as Columbus Avenue to shop 'til you drop.
Shop in Union Square
Ladies drop the guys off at a pub. Exclusive boutiques and the latest fashion trends are at your fingertips in Union Square. This is the place for shopaholics.
Stop in at Fisherman's Wharf
A visit to Fisherman's Wharf will be action-packed with loads of activities. There's even a seaplane that departs from Fisherman's Wharf and takes you over the Golden Gate Bridge, Point Bonita Lighthouse, Crissy Field, Alcatraz Island and Downtown San Francisco. This is a fantastic way to experience some of the best sites in California. Let your adventure take flight. Go on a sightseeing tour or hire a bicycle and explore the area at your own leisurely pace. Get on a boat and tour this beautiful city from the water. There are public dining cruises and private charters available. Check out a few sea lions resting on the floats near the bay, snap away with your camera and purchase a few souvenirs at the festive market. Ahoy, the ocean awaits with brilliant scenic views, a gentle bay breeze and stunning skyline that's simply picturesque.
Get a glimpse of the Twin Peaks
Want to check out some of the best views of the city? Then go to the Twin Peaks. The peaks are situated at about 922 feet and are the second highest peaks in the city. On a clear day the views are stunning. You may want to take a jacket with on your visit as it's often very windy at the peaks. You may even see the endangered Blue Mission Butterfly on your excursion! Post card views are guaranteed.
Originally posted 2016-05-31 19:56:12.