Besides visiting the White Cliffs of Dover, there is loads more to do in Kent.
There are sandy beaches to bathe and water sports for those needing an adrenalin rush.
Catch a wave on your surfboard, do some kite-surfing or kayak in the secluded bays.
For those keen golfers, here is a chance to improve your handicap. Kent offers a few excellent courses.
Then there are castles, gardens and museums for you to visit on your trip to this great part of England.
When you visit the chalk-coloured White Cliffs of Dover, see if you can spot the buildings on the French coast.
To quench your thirst and get your fill on great food, Kent has some world-class cuisine including pub favourites, fine dining and some superb wineries.
Journey to a wonderful part of England that is Kent.
White Cliffs of Dover
"There'll be bluebirds over the White Cliffs of Dover tomorrow, just you wait and see…"
Vera Lynn the White Cliffs of Dover
In 1942, Vera Lynn released a song about the White Cliffs of Dover by Nat Burton and Walter Kent. The song was covered by singers from the US and Britain. The well-known song served as hope for soldiers that soon war would end.
You have either seen them in a movie or witnessed them while catching a ferry on the English Channel.
The White Cliffs of Dover are one of Britain's official icons and were also used by troops as a defence in both World Wars.
To get the best of these famous cliffs, take a walk along the cliff tops, breathe in the sea air and enjoy fantastic views of the ocean.
While you here, check out the different fauna and flora. Don't miss taking a few photographs of the wildflowers or the butterflies that hover about.
If shipwrecks are your thing, you will be able to see the remains of the SS Falcon, an iron-screw steamer which caught fire and ran aground in 1926.
To access the wreck, take the path down the Langdon cliffs. The wreck is still in good condition.
Another wreck you will discover on your walk of the White Cliffs of Dover is the Preuβen, which lies off Fan Bay.
On 7 November 1910, the vessel's officers had a speed miscalculation and it crashed into the RMS Brighton.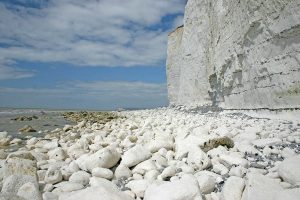 For a World War Two soldier experience, head to the Fan Bay Deep Shelter.
Here you will get kitted out with a hard hat and torch and venture through tunnels constructed as a means of defence in 1940 – 1941.
Get an idea of what it was like to be a troop deep beneath the White Cliffs of Dover while your tour guide keeps you informed.
Visitors will get a glimpse of two sound mirrors which were used to amplify sound and act as a warning for approaching enemy aircraft.
After your adventure through the tunnels, go to the South Foreland Lighthouse. Here you will get to see how the lighthouse' mechanisms work.
The lighthouse is used to warn ships approaching the Goodwin Sands. This sandbank is similar to quicksand and can be dangerous for ships.
The white chalk face cliffs are simply magnificent and should be on your wish of 'things to see'.
Things to do in Kent
Dover Castle
An enchanting castle that has more than 9 centuries of history is yours to explore. Go to the Great Tower where you will see what it was like to live like royalty in medieval times.
Once you have experienced royal quarters, go to the underground hospital. Get an idea of what it was like treating war patients underground and close to enemy attack.
It's here beneath the castle that 'Operation Dynamo was planned. During this operation on 4 May to 4 June 1940, British troops and allied forces were evacuated by civilian boats from Dunkirk, France to England.
Visitors will see film footage about the operation which gives you a real sense of the event. Dover Castle also served as headquarters in World War I.
See the gun drills and hear the story of Dover Castle during the First World War. The castle is well worth the visit.
Dover Transport Museum
The whole family will be entertained at the Dover Transport Museum. Everything from vintage cars to replicas of old streets will take you back in time.
Climb on a motorbike or explore one of the trains and browse around the model cars.
Stop in at the museum's café while the children immerse themselves in all that's around them.
Roman Painted House
Built-in 200 AD, the house formed part of a hotel used by travellers crossing the English Channel.
There are artefacts on display and frescoes to discover. This house is said to be the finest house of the Roman Period in England.
Dover Museum
Located in the centre of town, the Dover Museum gives great insight into Dover and its history. Not to be missed is the Bronze Age Boat.
The wooden boat was discovered in September 1992 and is about 3,500 years old. This boat is the world's oldest sea-faring boat.
Nine metres of the boat is on display at the museum. The entire boat couldn't be excavated as digging lead workers too close to buildings.
While you are at this exhibition, take a look at replicas, artefacts and models from the Bronze Age.
Go fishing at Sapphire Hoe
Drop your fishing line and catch yourself some fish on an outing to Sapphire Hoe.
Bring along a picnic basket and set yourself up at a spot to relax among beautiful scenery.
Take a walk through the reserve and spot some wildlife, do a bit of birdwatching or smell the flowers.
Pines Garden
Not far from Dover, located at St Margaret's Bay, this peaceful garden has a lake and trail for children as well as kitchen gardens with over 40 different types of fruit and vegetables.
Marlowe Theatre
If you feel like stepping away from the other attractions and want to watch a theatre show, Marlowe Theatre is a great venue that hosts touring shows and contemporary works.

National Trust
The White Cliffs have been owned by the National Trust since 2016, and they are now a protected site. This is great news for those of us who love to visit this beautiful part of the country!
The White Cliffs of Dover are one of the most iconic sights in England. The cliffs, which are made of chalk, have been a symbol of hope and defiance for centuries. In fact, the famous saying "Fog in Channel, Continent cut off" is thought to originate from the days when sailors would see the white cliffs as a sign that they were finally home.
The History of the White Cliffs
The first recorded mention of the White Cliffs is in the 11th-century Domesday Book. However, it is thought that they have been here for much longer than that. Over the centuries, the cliffs have been a popular spot for smuggling and illegal border crossings. In more recent times, they have been used as a defensive position during both world wars.
The cliffs are also home to a number of rare plants and animals. This is due to the fact that the chalk provides a unique habitat for these species. As a result, the area has been designated as a Site of Special Scientific Interest (SSSI).
Visiting the White Cliffs
There are plenty of ways to enjoy the beauty of the White Cliffs. One of the best ways is to take a walk along one of the many public footpaths that criss-cross the area. You can also take a boat trip from Dover Harbour to get up close and personal with these magnificent cliffs. Or why not take a trip on the famous heritage railway, which runs along part of the cliff top?
Whether you're looking for history, nature or just some fresh sea air, the White Cliffs of Dover are definitely worth a visit! And now that they're owned by the National Trust, we can be sure that this national treasure will be preserved for future generations to enjoy.
Walking on The White Cliffs of Dover
The White Cliffs of Dover are one of the most iconic landmarks in all of England. Standing at the edge of the cliffs and looking out over the English Channel, it's easy to see why this spot is so popular with hikers and nature lovers. If you're planning a hike on the White Cliffs of Dover, here's what you need to know.
The Basics
The White Cliffs of Dover are located in southeastern England, near the town of Dover. They are part of the North Downs, a range of chalk hills that runs across southern England. The cliffs themselves are made of chalk, which is why they are so white.
The best time to hike the White Cliffs of Dover is between late spring and early fall. During this time, the weather is usually mild and there is less chance of rain or strong winds. Keep in mind that the cliffs can be slippery when wet, so always take caution when hiking after it has been raining.
There are several different trails you can take to explore the White Cliffs of Dover. The most popular trail is the seven-mile (11-kilometer) round-trip hike from Dover to Shakespeare Beach. This moderate hike takes you along the top of the cliffs, offering stunning views of both the English Channel and the countryside below.
If you're looking for a shorter hike, there is a three-mile (five-kilometer) round-trip hike from Dover Castle to South Foreland Lighthouse. This easy hike takes you through a section of the White Cliffs Country Park, where you can see wildflowers and wildlife such as butterflies and birds.
Whether you're looking for a challenging hike or an easy walk with beautiful views, the White Cliffs of Dover have something to offer everyone. So what are you waiting for? Grab your hiking boots and head to southeastern England for an unforgettable adventure.
Visiting Fan Bay Deep Shelter
The White Cliffs of Dover are one of the most iconic landmarks in England. And nestled within the cliffs is the Fan Bay Deep Shelter – a hidden gem that's well worth a visit.
The Fan Bay Deep Shelter was built during World War II as part of the Dover defences. It was originally intended to be an anti-aircraft gun emplacement, but it was soon repurposed as a deep shelter to protect civilians from German bombing raids.
Today, the Fan Bay Deep Shelter is open to the public and makes for a fascinating visit. As you descend into the shelter, you can't help but be impressed by the sheer scale of it. The shelter is huge, and it's easy to imagine how it would have been able to accommodate up to 600 people during the war.
As you walk around, you'll see a number of original features including bunk beds, first aid posts, and even a kitchen. There's also an excellent audio guide which brings the history of the shelter to life.
If you're visiting the White Cliffs of Dover, then a trip to the Fan Bay Deep Shelter is a must. It's a great way to learn more about England's wartime history, and it's also an impressive feat of engineering. Just make sure you don't get too claustrophobic!
Conclusion:
The Fan Bay Deep Shelter is a hidden gem within the White Cliffs of Dover. If you're visiting the area, then it's well worth taking some time to explore this fascinating piece of England's wartime history.
Ticket Information
Tickets for the tunnel tours are sold at the fan Bay tunnel entrance on a first-come, first-served basis. Tours leave every 30 minutes through the day with a maximum of 12 people on each tour. National Trust Members can visit for free but must show a valid membership card at the tunnel entrance.
Due to the remote location, we are unable to accept payments by card. You can check the availability of tunnel tickets by asking in the White Cliffs Visitor Centre, before walking to the tunnel entrance.
Opening Times
The opening times of the tunnels vary throughout the year. Please check if the tunnels are open before your visit. You can check when we're open on our opening times page. We now have an advisory age of 8 years as we do not think the raw nature of the tunnels is suitable for those under this age.
The Nearest Parking
The nearest parking for the White Cliffs of Dover is at the Visitor Centre. The parking fee is £5.00 per car, but National Trust members can park for free. Please note that the car park closes each day at 7:00pm.
Access to the Tunnels
There are tunnels located within the cliffs that visitors can explore. You don't need to bring a torch, as one will be provided for you, but you should wear sensible footwear. Access to the tunnels may be refused if your footwear is unsuitable. Although the tunnels don't feel confined, they are 70 feet underground, so this may not be suitable for those who are claustrophobic.
Originally posted 2016-05-02 19:07:51.