Mexico is unique in more ways than one, from its location between the Pacific Ocean, the Gulf of Mexico, and the Caribbean Sea, to its unique history, culture, art, and cuisine. Much like its Caribbean counter-part Jamaica.
With snowy mountains, lush tropical jungles, arid deserts, and spectacular beaches, few countries in the world can boast a more varied landscape. The beauty of this country, combined with its fascinating history and culture, temperate weather, and wide range of destinations and activities, make this one of the most popular tourist countries in the world.
Where to Go
Mayan Riviera
Newly-dubbed the Mayan Riviera, the stretch of beach at the south-eastern tip of the Yucatan Peninsula is famous for its gorgeous beaches and perfect weather – dubbed Mexico weather. Here you'll find several small coastal towns and villages, and a number of resort cities. Among them is Playa del Carmen, one of Mexico's most popular tourist destinations, which provides the quintessential family beach holiday in a distinctly different location.
Head to Baja California
This is Mexico's western peninsula, which borders Southern California—for another unique take on the beach holiday. World-class surf beaches, deep-sea fishing, and a sleepy and relaxed atmosphere make this a highly popular destination for the younger crowd, thanks to the proximity of Tijuana, a fun and vibrant melting pot of a city.
Looking for fun in the sun, with a bit of luxury?
Head to Cancun in the province of Quintana Roo for the ultimate in luxury holidays. Five-star resort hotels, gorgeous white sanded beaches and turquoise water, and fabulous spa resorts make this province well-deserving of its nickname, the "Mexican Caribbean".
If you want to experience something different from the typical tourist experience, head off the tourist track into northern Mexico, to the border states of Chihuahua, Coahuila, Durango, and Sonora.
These northern states are mostly passed over by tourists, and for travellers who are looking to discover the "real" Mexico, this is a great place to start. You may not find the luxury hotels and resorts, or the plethora of tourist attractions, that are common in Cancun and Playa del Carmen, but there's still plenty to see and do.
The inland states of the central Bajio region include Mexico State, and the country's capital, Mexico City, one of the world's largest and most populous cities. A fabulous destination thanks to its wealth of cultural and historical sites, including landmarks, museums, art galleries, and parks, this is the place to go for lovers of urban culture.
What to See and Do in Mexico
Mayan Riviera
On the Mayan Riviera on the south-east coast, head to one of Mexico's Eco Theme Parks. Situated in protected ocean inlets, parks include Xcaret, which features a recreation Mayan village and wildlife exhibits, and Xel-Ha, a natural aquarium where visitors can swim with dolphins and other marine animals.
Popular activities
Snorkelling and scuba diving are popular activities in many coastal cities, including Cancun, Cozumel, Baja California, and Isla Mujeres.
Mexico City
Mexico City holds the world title for largest number of museums, and there are some fascinating choices here, with museums devoted to Mexican anthropology, architecture, modern and historical art, pre-Columbian history, natural history, and national history.
Acapulco
Acapulco is widely regarded as one of the best places to experience nightlife in Mexico. This sophisticated beach-side city has plenty of excellent restaurants, bars, and nightclubs, and along with Cancun, is a popular destination for lovers of luxury holidays.
Mayan Ruins
The Yucatan Peninsula, also known as the Mayan Gateway, is a great destination for beach-lovers, but also offers a great range of day trips and tours to ancient Mayan historical sites and ruins, including the massive Chichen Itza, which features a pyramid and observatory.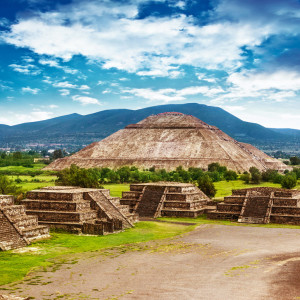 Need to Know Info
The official currency of Mexico is the Mexican peso. Mexico does not have a single official language, but most citizens are Spanish-speaking, and most government officials and processes are conducted using Spanish. In accordance with the country's Law of Linguistic Rights, Spanish, along with a total of 68 indigenous languages, are recognised as official languages. The most common non-native language is English, but visitors should not necessarily expect to find many English speakers as they travel—as always, it's useful to learn some of the local language.
The coastal regions of Mexico tend to be hot and humid, while inland cities, especially those at higher elevations, are typically more temperate. Most of Mexico is sunny for a large portion of the year, with a rainy season that extends from May through to September. Northern Mexico tends to be dry and cool, with the general climate becoming warmer and more humid further south. In the southern Yucatan region, for example, temperatures stay between 24 to 28 degrees for most of the year, whereas in northern inland regions temperatures are typically in the high teens.
Many international airlines fly directly to Mexico, and it's easy to fly direct from most European countries, as well as multiple US cities, New Zealand, and Australia. It's also possible to drive into Mexico across the US border, although the process of crossing can take several hours during busy periods. Many tourists entering Mexico for a stay of up to 90 days can obtain a tourist card upon arrival, which takes the place of a visa. This option is available to residents of the UK, US, New Zealand, and Australia, as well as residents of many European, Caribbean, and South American countries.
Several airlines, including full-service and budget carriers, fly between major cities on a daily basis, and as Mexico is a large country it can be useful to travel between cities via air. In addition, there are several ways of travelling overland. Mexico's intercity bus system is extremely user-friendly, with a centralized ticketing system and an extensive network of routes that make it easy to get around the country. Still, it can be useful to hire a car, if you want to travel to out-of-the-way places that buses don't service. Note that many main roads—and most roads that are in good driving condition—are toll roads. If travelling by hired car, it's best to keep a supply of coins and small notes on hand for paying tolls. Passenger trains are limited, but in some states there are infrequent train routes travelling between neighbouring cities.
Capital: Mexico City
Dialing code: +52
Currency: Mexican peso
Population: 122.3 million (2013) World Bank
Continent: North America
Originally posted 2015-11-17 20:18:08.