My wife and I had the privilege of going to Ricks Cafe in Jamaica back in 2017. For whatever reason, I chose to write about it.  It is one of the experiences that has stuck with me. 
I even have the flag on my Facebook page to boast that I have been there and done that.  Almost like the famous Jamaican advert that was running in the UK for a few years: "only when you go, you will know"
It was voted to be one of the top 10 Bars in the world.
As surprising as this is, I never knew Ricks Cafe existed until I was out on the tiny Caribbean island.
Negril
Our main aim (my wife and I) was to head to Negril.  We didn't know much about where we were going or what it would be like there but based on the reputation, we would head out to Negril nonetheless.
We had organized a taxi the night before to take us on our journey.  We heard a lot about the "Hair Raising" ride the taxis had included in the price – my word our guy did not disappoint. 
I will tell you about that at the end.  Anyway, when we met up and started out the journey for the day, the driver asked where we wanted to go.  We all knew that Negril was our arrival point, but his question was "what do you want to see along the way"
We, of course, were unprepared as usual, and the eventual recommendation of Ricks was mentioned by the driver and that is how that came about.
The driver, by the way, had this unusual talent of being able to check his mobile, talk on his mobile, talk to us sitting in the back seat, while turning his head 180 degrees – and all this while being able to drive at the same time.  It had crossed my mind serval times to get out and walk, but that would seem rude.
We were staying near Montego Bay airport – which was quite convenient I might add.  We woke up around 7 am and were on the road at about around 07h30.  The journey took us about 2 hours, as we stopped over here and there, as good tourists do.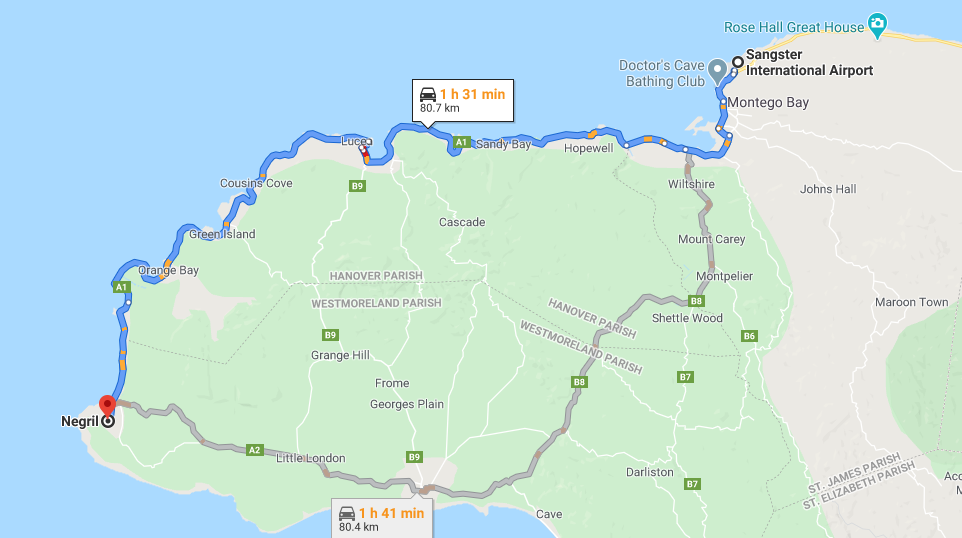 Cliff jump
"Ricks" and for that matter Negril, are to the West side of the island. The first thing that everybody will come to know is that it is probably most famous for the cliff jump activity that just about everybody gets to try.
There are various levels that one can challenge themselves to – if you were going to attempt the higher levels make sure you have not had a few beverages at the bar first.
I believe the highest one can jump is a 35-foot high cliff.  For the more experienced and so-called professional cliff divers, that would be you.
Bar & Grill
Besides the crazy people jumping off the cliffs, there is a great bar & grill, which offers a great menu.  They have live music going most of the time.  However, the most important thing is to experience, probably one of the most awesome sunsets, you are ever going to see.  According to locals gathering at Ricks is a Jamaican tradition.
Ricks Jamaica was founded by Richard "Rick" Hershman, in April 1974.  Is it quite near seven-mile beach, so both can be visited in one day – as we did.
For more information, you can go to their Ricks Cafe Jamaica Website
Rick's Cafe Menu 
Rick's Cafe offers a wide variety of Caribbean and international dishes at reasonable prices, so there is something for everyone to enjoy. Some of the most popular items on the menu include jerk chicken, curried goat, and pizza. There is also a large selection of cocktails, beers, and wines available. If you're looking for a taste of Jamaica, be sure to try one of the bar's signature cocktails, like the Bushwacker or the Painkiller.
Founded

 
Some small amounts of info: It was founded in April 1974 by Richard Hershman,
when he found this beautiful rocky place, at that time, Negril was still just a fishing area.
It was a village with little development and few modern facilities.  It originally belonged to a local doctor, son of the first governor of independent Jamaica. It is a very symbolic roadside location, as it was the first public bar and restaurant in the Rocky West area.
"Your body has finally arrived where your mind has always been."
Richard "Rick" Hershman • 1974
Along with our visit to Ricks Cafe, we spent a lot of our time on one of the Negril stretches of the beach.
Recommend Negril 
If I can ever recommend a beautiful long stretch of sandy beaches and blue water, this would be it.
Rick's Cafe Negril is one of the most popular tourist destinations in Jamaica.
The cafe is located on a cliff overlooking the Caribbean Sea and offers stunning views of the sunset. It's also a great spot to watch cliff divers perform their stunts.
In addition to the amazing views, Rick's Cafe is known for its delicious food and drinks. The menu features Caribbean favorites like jerk chicken and curried goat, as well as international dishes like pasta and pizza.
There's also a wide selection of cocktails, beers, and wines available. Rick's Cafe is open daily from 11am to 11pm. Admission is free, but there is a cover charge for the cliff diving show.
Why is Rick's Cafe Negril famous?
Rick's Cafe in Negril, Jamaica is famous for a number of reasons. First, it is one of the oldest and most well-established bars in Negril. It was opened in 1974 by American ex-pat Rick, and it has been a popular hangout for both locals and tourists ever since. Secondly, Rick's Cafe is famous for its stunning location. Perched on the cliffs overlooking the famous Seven Mile Beach, it offers breathtaking views of the turquoise waters of the Caribbean Sea. Finally, Rick's Cafe is renowned for its legendary sunset parties. Every day at dusk, visitors flock to the bar to watch the sun dip below the horizon, while enjoying live music and dancing. With its idyllic setting, lively atmosphere, and delicious food and drinks, it's easy to see why Rick's Cafe is one of the most popular tourist destinations in Jamaica.
What to do at Rick's Cafe?
In addition to enjoying the views and the food, there are a number of things to do at Rick's Cafe. Every day at 5 pm, there is a cliff diving show that visitors can watch for a small cover charge. There is also live music every night, and the bar is a popular spot for dancing. If you're looking for a more relaxed activity, you can soak up the sun on the beach that is located just below the cafe.
04 April 2022
Plan Your Visit:
When planning a visit to Rick's Cafe in Negril, Jamaica, it's essential to consider factors such as weather, crowd levels, and any special events or live music performances to ensure a memorable and enjoyable experience.
Weather
Jamaica has a tropical climate with warm temperatures throughout the year. The peak tourist season runs from mid-December to mid-April, with the most pleasant weather, lower humidity, and minimal rainfall. However, visiting during the off-peak season from May to November can still offer enjoyable weather conditions, with the possibility of occasional rain showers. Be sure to check the local weather forecast before your visit to prepare for any changes in conditions.
Crowd Levels
Rick's Cafe can get quite crowded, particularly during the peak tourist season and weekends. If you prefer a more relaxed atmosphere, consider visiting on a weekday or during the off-peak season when there may be fewer visitors. Arriving early in the day can also help you secure a prime spot for viewing the cliff diving and sunset.
Special Events and Live Music Performances
Rick's Cafe is known for its daily live music performances, featuring talented local musicians and reggae bands. To make the most of your visit, check their event calendar or social media pages to find out about any special events, themed nights, or guest performers scheduled during your stay in Negril. These events can add an extra layer of excitement to your experience at Rick's Cafe.
By carefully planning your visit to Rick's Cafe, taking into account the weather, crowd levels, and special events, you can enjoy all that this iconic Jamaican destination has to offer while creating lasting memories of your time on the island.
Transportation Options
There are several transportation options available for visitors looking to reach Rick's Cafe from popular tourist areas in Negril, Jamaica. Each option offers different levels of convenience, cost, and flexibility, so consider your preferences and budget when choosing the best method for your trip.
Taxi Services
Taxis are widely available in Negril and can provide a convenient and direct way to reach Rick's Cafe. It's essential to negotiate the fare with the driver before starting your journey or use a reputable taxi service with a meter to avoid potential disputes. Keep in mind that taxi fares can be higher compared to other transportation options.
Shuttle Buses
Some hotels and resorts in Negril offer shuttle bus services to popular tourist attractions, including Rick's Cafe. This can be an economical and hassle-free way to get there, especially if the shuttle service is included in your hotel package. Check with your hotel's front desk or concierge for information about shuttle bus schedules and any associated fees.
Guided Tours
A guided tour is an excellent option for those who prefer a more structured experience, with the added benefit of a knowledgeable tour guide who can provide insights into the history and culture of Negril. Many tour operators offer excursions to Rick's Cafe, often combined with other local attractions such as the Seven Mile Beach, Negril Lighthouse, or snorkeling trips. Guided tours typically include transportation and may also cover entrance fees and meals, making it a convenient and all-inclusive experience.
Car Rentals
If you prefer the flexibility of exploring at your own pace, renting a car can be a suitable option. Car rental agencies are available in Negril and at the airport, offering a range of vehicles to suit your needs. Make sure to familiarize yourself with local driving rules and conditions before hitting the road. Also, remember that parking may be limited at Rick's Cafe during peak times, so plan accordingly.
Public Transportation
While public transportation in Negril is limited, it is possible to take a local minibus, known as a "route taxi" or "shared taxi," to get close to Rick's Cafe. This is the most cost-effective option but may be less convenient due to multiple stops and potential crowding. Ask a local or your hotel's staff for guidance on the best route and fare.
By considering these various transportation options to reach Rick's Cafe, you can select the most suitable method based on your preferences, budget, and travel itinerary, ensuring a smooth and enjoyable journey to this iconic Jamaican destination.
Safety Precautions:
While Rick's Cafe is an exciting destination for cliff diving and swimming, it is essential to follow safety precautions to ensure a fun and enjoyable experience for everyone. Here are some tips to stay safe while engaging in these activities:
Follow Staff Guidelines
Pay close attention to the instructions and guidelines provided by the staff at Rick's Cafe. They are experienced in managing the cliff diving and swimming activities and will offer valuable advice to help you stay safe.
Know Your Personal Limits
Assess your own swimming and diving abilities before participating in any activities. If you are not a strong swimmer or have limited experience with cliff diving, it may be best to enjoy watching others from a safe distance.
Check the Water Depth
Before diving, make sure the water is deep enough to accommodate a safe landing. The depth may vary depending on the tide, so always verify the conditions with the staff before taking the plunge.
Use Proper Diving Techniques
When diving, use proper techniques to minimize the risk of injury. This includes extending your arms and legs, keeping your body straight, and entering the water head-first. If you are unsure about the correct technique, consult with the staff or watch experienced divers before attempting a dive.
Never Dive Alone
It's always a good idea to have a buddy or observer nearby when diving to ensure your safety. They can provide assistance or call for help if needed.
Avoid Alcohol Consumption
Refrain from consuming alcohol before engaging in cliff diving or swimming activities. Alcohol can impair your judgment and coordination, increasing the risk of accidents.
Wear Appropriate Footwear
The cliffs and surrounding areas can be slippery, so it is crucial to wear appropriate footwear with good traction, such as water shoes or sandals, to prevent slips and falls.
Monitor Weather Conditions
Keep an eye on the weather, as changes in wind, rain, or waves can affect the safety of diving and swimming activities. If conditions become unfavorable, it's best to postpone your plans and return when it's safer.
Be Mindful of Other Visitors
Be aware of your surroundings and the presence of other visitors to prevent collisions or accidents. Take turns diving and give each diver ample space to complete their jump.
By following these safety precautions, you can enjoy the thrilling activities at Rick's Cafe while minimizing the risk of accidents or injuries, allowing for a memorable and enjoyable experience in this beautiful Jamaican destination.
Best Viewing Spots
Rick's Cafe offers several fantastic vantage points for capturing stunning photos of the cliff diving action, the picturesque coastline, and the unforgettable sunsets. Here are some top locations within the cafe to consider:
Cliffside Deck
The cliffside deck at Rick's Cafe provides an unobstructed view of the divers as they take the plunge into the crystal-clear waters below. It's an excellent spot to capture action shots of the divers, as well as the dramatic cliffs and coastline in the background.
Sunset Bar
Located at the edge of the cliff, the Sunset Bar offers an elevated view of the diving area and the ocean beyond. This location is perfect for capturing the sun as it sets over the horizon, with divers and the coastline adding an extra layer of interest to your sunset photos.
Upper-Level Terrace
The upper-level terrace at Rick's Cafe provides a bird's-eye view of the entire area, including the diving platform, swimming areas, and the coastline. From this vantage point, you can capture unique perspectives of the diving action and the surrounding landscape.
Poolside Lounge
If you prefer a more relaxed atmosphere while snapping your photos, the poolside lounge area offers a comfortable spot to enjoy the cliff diving action and the breathtaking views. You can capture candid moments of fellow visitors enjoying themselves while also including the cliffs and ocean in your shots.
Dining Area
The dining area at Rick's Cafe is another great spot to capture the excitement of the cliff diving action while also enjoying a meal or a refreshing beverage. With views of the diving platform and the ocean, you can snap some great photos between bites.
Lower-Level Viewing Platforms
There are several lower-level viewing platforms and staircases throughout Rick's Cafe that provide unique angles for capturing the diving action, the coastline, and the sunsets. Explore these areas to find the perfect shot that showcases the beauty of this iconic Jamaican destination.
By visiting these top viewing spots within Rick's Cafe, you can capture stunning photos that showcase the excitement of the cliff diving action, the picturesque coastline, and the unforgettable sunsets that have made this location a must-visit destination for travelers from around the world.
Nearby Attractions
In addition to the thrilling experiences at Rick's Cafe, there are several other attractions and activities in Negril that you can explore to make the most of your visit. Here are a few noteworthy options:
Seven Mile Beach
This famous stretch of white sand beach offers a picturesque setting for sunbathing, swimming, and enjoying various water sports. Lined with palm trees and crystal-clear waters, the Seven Mile Beach is the perfect spot to relax and soak up the sun.
Negril Lighthouse
Built in 1894, the historic Negril Lighthouse stands on the westernmost tip of the island. A visit to this iconic landmark provides breathtaking panoramic views of the coastline and the opportunity to learn more about Jamaica's maritime history.
Water Sports Adventures
Negril is an ideal destination for water sports enthusiasts. Try your hand at snorkeling, scuba diving, or even taking a glass-bottom boat tour to explore the vibrant coral reefs and marine life around the area. Additionally, you can enjoy activities such as jet skiing, kayaking, or paddleboarding for an adrenaline-pumping experience.
Blue Hole Mineral Spring
Located a short drive from Negril, the Blue Hole Mineral Spring is a natural wonder that offers a unique swimming experience in a limestone sinkhole surrounded by lush vegetation. The mineral-rich waters are said to have therapeutic properties, making it a popular spot for both relaxation and adventure.
Mayfield Falls
Embark on a guided tour to the nearby Mayfield Falls, where you can explore the beautiful cascades and take a dip in the refreshing pools. This excursion offers a perfect blend of adventure and relaxation, as you hike through the lush rainforest and experience the natural beauty of Jamaica.
Local Food and Nightlife
Negril's vibrant food scene offers a diverse range of dining options, from casual beachside eateries to fine dining establishments. Enjoy authentic Jamaican cuisine, fresh seafood, or international fare at various local restaurants. After dinner, explore the lively nightlife scene and dance the night away at one of Negril's many bars and clubs.
By including these nearby attractions and activities in your itinerary, you can create a well-rounded and memorable trip to Negril, experiencing the best of what this beautiful Jamaican destination has to offer.
Dining Options
Rick's Cafe offers a delightful dining experience that showcases the flavors of Jamaica, with a menu featuring a variety of appetizing options. Here's an overview of some of the must-try dishes and drinks to enjoy during your visit:
Jamaican Jerk Chicken
A quintessential Jamaican dish, the jerk chicken at Rick's Cafe is seasoned with a blend of spices and herbs before being grilled to perfection. This flavorful dish is a must-try for those seeking an authentic taste of the island's cuisine.
Escovitch Fish
This traditional Jamaican dish features freshly caught fish that is seasoned, fried, and served with a tangy escovitch sauce made from vinegar, onions, carrots, and bell peppers. The combination of flavors is both delicious and unique.
Curry Goat
Another local favorite, curry goat is a savory dish made with tender goat meat slow-cooked in a rich curry sauce infused with Jamaican spices. This hearty meal is best enjoyed with a side of rice and peas.
Ackee and Saltfish
As Jamaica's national dish, ackee and saltfish is a must-try for any visitor. This flavorful combination of sautéed salted cod with the exotic ackee fruit is often served with fried dumplings or boiled provisions, making for a satisfying meal.
Coconut Shrimp
These succulent shrimp are coated in a crispy coconut batter and fried until golden brown, making for a delicious appetizer or light meal that pairs well with the cafe's tropical cocktails.
Tropical Cocktails
Rick's Cafe offers an extensive selection of refreshing cocktails that are perfect for sipping while enjoying the breathtaking views. Don't miss out on their signature drinks, such as the Jamaican Rum Punch, the Bob Marley, or the Dirty Banana, all of which incorporate local flavors and ingredients.
Desserts
Complete your dining experience with a taste of Jamaican sweets. Try the decadent Blue Mountain Coffee Cheesecake or the traditional Rum Cake, both of which are sure to satisfy your sweet tooth.
By indulging in these delectable menu options at Rick's Cafe, you'll not only enjoy a memorable dining experience but also get a true taste of Jamaica's rich culinary heritage.
Live Music Schedule
Rick's Cafe is not only famous for its cliff diving and stunning sunsets but also for its vibrant live music scene, which adds to the unique atmosphere of this iconic Jamaican destination. The live music performances feature a variety of genres, predominantly focusing on reggae and local Jamaican music, ensuring an authentic experience for visitors.
Performance Times
Live music performances at Rick's Cafe typically take place in the evenings, allowing guests to enjoy the captivating sunsets along with the tunes. Performances generally start around sunset time and continue into the night, with occasional afternoon sessions during peak tourist seasons or special events.
Genres of Music
While reggae music is the most prominent genre featured at Rick's Cafe, you may also encounter other styles, such as calypso, soca, and dancehall. The live bands and musicians showcase Jamaica's rich musical heritage, providing an immersive cultural experience for guests.
Resident Bands and Musicians
Rick's Cafe is home to talented resident bands and musicians who perform regularly, ensuring high-quality entertainment for visitors. These artists are skilled in creating an engaging and lively atmosphere, encouraging guests to dance, sing along, or simply relax and enjoy the music.
Special Events and Guest Musicians
Throughout the year, Rick's Cafe may host special events or themed nights featuring guest musicians, both local and international, who showcase their talents and provide a unique entertainment experience. These events may include tribute nights, holiday celebrations, or appearances by renowned Jamaican musicians.
To stay updated on the live music schedule at Rick's Cafe, it is recommended to check their official website or social media channels for the latest information on performance times, special events, and guest musicians. This way, you can plan your visit accordingly and fully immerse yourself in the dynamic and entertaining atmosphere that Rick's Cafe has to offer.
Souvenirs and Shopping
At Rick's Cafe, visitors can take a piece of their memorable experience back home by visiting the on-site gift shop. This boutique store offers a wide array of unique souvenirs, allowing guests to find the perfect memento of their time spent at this iconic Jamaican destination.
Apparel: The gift shop features a selection of branded clothing items such as t-shirts, tank tops, hoodies, and hats, all adorned with the recognizable Rick's Cafe logo or iconic Jamaican symbols. These wearable souvenirs are perfect for showcasing your fond memories of the Cafe and Negril.

Accessories: In addition to clothing, the gift shop also offers an assortment of accessories such as beach bags, keychains, and even bottle openers, all featuring the Rick's Cafe branding or other Jamaican designs. These items make for both practical and memorable keepsakes.

Local Art and Crafts: To truly capture the essence of Jamaican culture, the gift shop at Rick's Cafe stocks a variety of local art and crafts. Handmade by talented artisans, these items range from intricate wood carvings and vibrant paintings to handcrafted jewelry and pottery.

Jamaican Food and Drink: Bring home the flavors of Jamaica by purchasing some local food and drink items, such as Blue Mountain coffee, jerk seasoning, or even a bottle of Jamaican rum. These souvenirs allow you to recreate the culinary delights experienced during your visit.

Postcards and Stickers: For those who prefer smaller, more traditional souvenirs, the gift shop also offers a selection of postcards and stickers featuring stunning images of Rick's Cafe and its picturesque surroundings.
By shopping for souvenirs at the on-site gift shop, visitors can find unique and meaningful tokens to remember their time at Rick's Cafe and share their experience with friends and family back home.
Group Events and Special Occasions
Rick's Cafe is a versatile venue that offers an idyllic setting for hosting private events, parties, or even weddings. With its breathtaking views, stunning sunsets, and lively atmosphere, it serves as a perfect backdrop for special occasions and unforgettable celebrations.
Event Spaces: Rick's Cafe offers a range of event spaces suitable for hosting gatherings of various sizes. From intimate parties to larger events, the venue can accommodate your needs with its indoor and outdoor areas, all providing stunning views of the cliffs and the Caribbean Sea.

Catering Options: When hosting an event at Rick's Cafe, guests can choose from an array of catering options to suit their preferences. The experienced culinary team can create a tailored menu featuring a variety of local and international dishes, including appetizers, entrées, and desserts. Buffet-style or plated dinner options are available, ensuring a personalized and memorable dining experience for your guests.

Bar Services: Rick's Cafe is well-known for its tropical cocktails and extensive drink selection. Customizable bar services are available for events, including open bars, cash bars, or drink packages to suit your preferences and budget.

Entertainment and Live Music: Add a touch of excitement and authenticity to your event with live music performances. Rick's Cafe can arrange for local bands or musicians to perform during your event, creating a lively atmosphere that your guests will enjoy.

Event Planning and Coordination: The dedicated staff at Rick's Cafe can assist with the planning and coordination of your special event. Their expertise and attention to detail ensure that every aspect of your celebration runs smoothly, from venue setup and decorations to coordinating with vendors and suppliers.

Weddings and Celebrations: Rick's Cafe serves as a stunning location for destination weddings or vow renewals. The venue can assist with organizing everything from the ceremony and reception to the catering and entertainment. The picturesque setting provides a unique and romantic backdrop for couples to begin their journey together.
By hosting your special occasion at Rick's Cafe, you can create a memorable experience for your guests while enjoying the beautiful surroundings and warm Jamaican hospitality that the venue has to offer.
Visitor Testimonials
Rick's Cafe is a beloved destination in Jamaica, renowned for its breathtaking views, thrilling cliff diving, live music, and delectable food. Here are a few personal stories and experiences from past visitors that showcase the highlights and memorable moments that make Rick's Cafe a must-visit attraction:
The Thrill-Seeker's Experience: "Visiting Rick's Cafe was the highlight of my trip to Jamaica! The adrenaline rush from cliff diving was incredible, and the staff made me feel safe and encouraged. It was a once-in-a-lifetime experience I'll never forget!" – Sarah, from the United States

Sunset Serenity: "Rick's Cafe was the perfect spot to watch the most breathtaking sunset I've ever seen. The vibrant colors reflecting on the water, combined with the laid-back atmosphere and live reggae music, made for an unforgettable experience." – Mark, from the United Kingdom

Culinary Delights: "The food at Rick's Cafe was amazing! We indulged in fresh seafood, spicy jerk chicken, and some delicious cocktails. The ambiance, with the sea breeze and live music, truly made it a dining experience to remember." – Anna, from Australia

A Romantic Getaway: "My partner and I celebrated our anniversary at Rick's Cafe, and it was magical. We enjoyed a candlelit dinner overlooking the stunning cliffs, followed by dancing under the stars to the live band. It was a night we'll cherish forever." – Isabelle, from Canada

Family Fun: "We took our family to Rick's Cafe, and everyone had a blast! The kids loved watching the cliff divers, and we all enjoyed swimming in the crystal-clear waters. The live music and delicious food made it a fantastic day for the whole family." – Maria, from Spain
These testimonials highlight the diverse range of experiences and memories that visitors can enjoy at Rick's Cafe. From adrenaline-pumping cliff diving and serene sunsets to delicious food and live music, there's something for everyone at this iconic Jamaican attraction.
Originally posted 2020-08-14 16:12:46.