My wife and I had the privilege of going to Ricks Cafe in Jamaica back in 2017. For whatever reason, I chose to write about it.  It is one of the experiences that has stuck with me. 
I even have the flag on my Facebook page to boast that I have been there and done that.  Almost like the famous Jamiacian advert that was running in the UK for a few years: "only when you go, you will know"
It was voted to be one of the top 10 Bars in the world.
As surprising as this is, I never knew Ricks Cafe existed until I was out on the tiny Caribbean island.
Negril
Our main aim (my wife and I) was to head to Negril.  We didn't know much about where we were going or what it would be like there, but based on the reputation, we would head out to Negril nonetheless.
We had organized a taxi the night before to take us on our journey.  We heard a lot about the "Hair Raising" ride the taxis had included in the price – my word our guy did not disappoint. 
I will tell you about that at the end.  Anyway, when we met up and started out the journey for the day, and the driver asked where we wanted to go.  We all knew that Negril was our arrival point, but his question was "what do you want to see along the way"
We, of course, were unprepared as usual, and the eventual recommendation of Ricks was mentioned by the driver and that is how that came about.
The driver, by the way, had this unusual talent of being able to check his mobile, talk on his mobile, talk to us sitting in the back seat, while turning his head 180 degrees – and all this while being able to drive at the same time.  It had crossed my mind serval times to get out and walk, but that would seem rude.
We were staying near Montego Bay airport – which was quite convenient I might add.  We woke up around 7 am and were on the road at about around 07h30.  The journey took us about 2 hours, as we stopped over here and there, as good tourists do.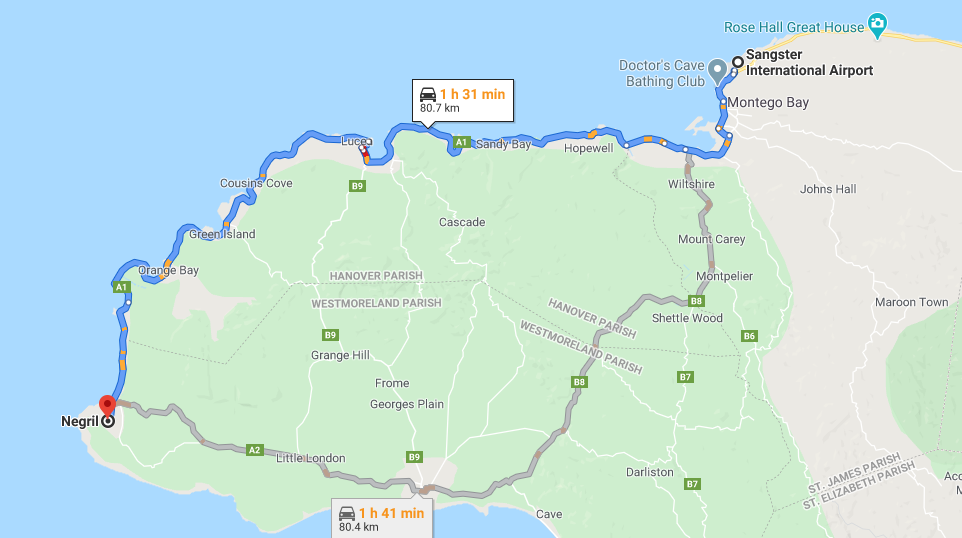 Cliff jump
"Ricks" and for that matter Negril, are to the West side of the island. The first thing that everybody will come to know is that it is probably most famous for the cliff jump activity that just about everybody gets to try.
There are various levels that one can challenge themselves to – if you were going to attempt the higher levels make sure you have not had a few beverages at the bar first.
I believe the highest one can jump is a 35-foot high cliff.  For the more experienced and so-called professional cliff divers, that would be you.
Bar & Grill
Besides the crazy people jumping off the cliffs, there is a great bar & grill, which offers a great menu.  They have live music going most of the time.  However, the most important thing is to experience, probably one of the most awesome sunsets, you are ever going to see.  According to locals gathering at Ricks is a Jamaican tradition.
Ricks Jamaica was founded by Richard "Rick" Hershman, in April 1974.  Is it quite near seven-mile beach, so both can be visited in one day – as we did.
For more information, you can go to their Ricks Cafe Jamaica Website
Rick's Cafe Menu 
Rick's Cafe offers a wide variety of Caribbean and international dishes at reasonable prices, so there is something for everyone to enjoy. Some of the most popular items on the menu include jerk chicken, curried goat, and pizza. There is also a large selection of cocktails, beers, and wines available. If you're looking for a taste of Jamaica, be sure to try one of the bar's signature cocktails, like the Bushwacker or the Painkiller.
Founded

 
Some small amounts of info: It was founded in April 1974 by Richard Hershman,
when he found this beautiful rocky place, at that time, Negril was still just a fishing area.
It was a village with little development and few modern facilities.  It originally belonged to a local doctor, son of the first governor of independent Jamaica. It is a very symbolic roadside location, as it was the first public bar and restaurant in the Rocky West area.
"Your body has finally arrived where your mind has always been."
Richard "Rick" Hershman • 1974
Along with our visit to Ricks Cafe, we spent a lot of our time on one of the Negril stretches of the beach.
Recommend Negril 
If I can ever recommend a beautiful long stretch of sandy beaches and blue water, this would be it.
Rick's Cafe Negril is one of the most popular tourist destinations in Jamaica.
The cafe is located on a cliff overlooking the Caribbean Sea and offers stunning views of the sunset. It's also a great spot to watch cliff divers perform their stunts.
In addition to the amazing views, Rick's Cafe is known for its delicious food and drinks. The menu features Caribbean favorites like jerk chicken and curried goat, as well as international dishes like pasta and pizza.
There's also a wide selection of cocktails, beers, and wines available. Rick's Cafe is open daily from 11am to 11pm. Admission is free, but there is a cover charge for the cliff diving show.
Why is Rick's Cafe Negril famous?
Rick's Cafe in Negril, Jamaica is famous for a number of reasons. First, it is one of the oldest and most well-established bars in Negril. It was opened in 1974 by American ex-pat Rick, and it has been a popular hangout for both locals and tourists ever since. Secondly, Rick's Cafe is famous for its stunning location. Perched on the cliffs overlooking the famous Seven Mile Beach, it offers breathtaking views of the turquoise waters of the Caribbean Sea. Finally, Rick's Cafe is renowned for its legendary sunset parties. Every day at dusk, visitors flock to the bar to watch the sun dip below the horizon, while enjoying live music and dancing. With its idyllic setting, lively atmosphere, and delicious food and drinks, it's easy to see why Rick's Cafe is one of the most popular tourist destinations in Jamaica.
What to do at Rick's Cafe?
In addition to enjoying the views and the food, there are a number of things to do at Rick's Cafe. Every day at 5 pm, there is a cliff diving show that visitors can watch for a small cover charge. There is also live music every night, and the bar is a popular spot for dancing. If you're looking for a more relaxed activity, you can soak up the sun on the beach that is located just below the cafe.
04 April 2022