Rolling green hills, gorgeous beaches, and the high Blue Mountains make Jamaica one of the most beautiful of the Caribbean islands, and easily one of the world's most beautiful locations.
The beauty of the island, and its stunning resorts lend themselves perfectly to luxury holidays.
While the variety of adventure and exploration activities available here make the island an equally ideal destination for those who love to spend their holidays doing more than relaxing on the beach.
Where to Go in Jamaica
Jamaica is roughly divided into three regions — western, central, and eastern—each of which includes around half a dozen parishes.
The western region of Jamaica is Cornwall County, which includes the city of Montego Bay, as well as Lucia and Negril.
This part of the island is a tourist resort haven, with some gorgeous resorts and villas located here, and long stretches of beaches with soft white sand, and deep turquoise water.
Negril has plenty of those gorgeous beaches, but it's also one of the most lively nightspots on the island, with fun bars and nightclubs, and plenty of cool live music.
Essentially, one of the best bars to visit in that area is Ricks Cafe Jamaica
The central region is Middlesex County, and along the South Coast of this part of the island, there are some fantastic luxury resorts and hotels.
Many of the smaller boutique hotels are converted homes dating back a century or two, looking out over the gorgeous Caribbean waters.
The South Coast is a true natural paradise, and this untouched wilderness is the perfect place for a quiet and relaxing get-away-from-it-all kind of holiday.
In the east, Surrey County is one of the main tourist areas, with the cities of Kingston, Port Antonio, and Morant Bay, as well as the Blue Mountains. As in most of the larger cities and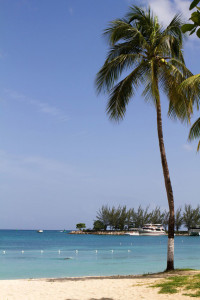 towns on the island, there are several resorts and hotels adjoining the capital city of Jamaica, as well as the other cities in this region.
What to See and Do
Dunn's River Falls
One of Jamaica's most popular natural attractions is Dunn's River Falls, a spectacular 600-foot high waterfall that cascades over the ocean.
Visitors can climb the rocks at the side of the waterfall for a fantastic view of the ocean overlook.
Blue Mountain coffee factory
Visit the Blue Mountain coffee factory for a fascinating glimpse into the making of some of the world's most sought-after coffee.
Guided 4WD tour
Take a guided 4WD tour up the Blue Mountains to the Peak Trail, for fabulous views of Surrey County and Kingston.
Whitewater Rafting
Go whitewater rafting down the Cabarita River in Cornwall County. These adventure tours are available in the small town of Friendship, located south of Negril.
Port Antonio
Visit Port Antonio for a relaxing city experience, or to see some of the many beautiful waterfalls in the area, including Somerset Falls and Reach Falls.
Another local waterfall, the Ys, features a stunning seven-tiered waterfall, with large shallow wading pools.
Variety of water sports
There are locations all over the island that are perfect for a wide variety of water sports, including swimming, snorkelling, scuba diving, jet-skiing, kite surfing, and fishing.
Bob Marley Museum in Kingston
The Bob Marley Museum in Kingston is a must for fans of the reggae legend. Located in Marley's former home and recording studio, the guided tour includes a huge volume of interesting memorabilia.
Animal Farm & Nature Reserve near Montego Bay
Visit the Animal Farm & Nature Reserve near Montego Bay to see exotic animals and birds, wander the gardens, and hand-feed birds in the reserve's large walk-in aviary.
National Gallery of Jamaica
See the National Gallery of Jamaica, in Kingston, which features local art from several periods in the country's history, including art from the indigenous Taino Indians.
Tour Appleton Estate in Middlesex County
Tour Appleton Estate in Middlesex County for an interesting glimpse into the estate's rum-making processes, demonstrations of methods dating back to the 18th century, and a tasting session.
Walking tour of Black River
On the South Coast, take a walking tour of Black River, in the Parish of Saint Elizabeth. In the 19th century, Black River was one of Jamaica's busiest port towns, and it's now an interesting place to explore.
Also in Black River, several tour operators offer guided tours of the river itself, venturing into mangrove swamps to see crocodiles and other local fauna.
Bluefields Bay and Belmont Beach
Slightly north-west of Black River, another opportunity for an interesting guided tour can be found at Bluefields Bay and Belmont Beach.
With stops at marine caves, coral reefs, mangrove swamps, and the port town of Sav-la-Mar, the tour is full of fascinating facts about the native Taino people, the region's flora and fauna, and the history of the area.
Need to Know Info about Jamaica
Currency of Jamaica
The currency of Jamaica is the Jamaican Dollar, but US dollars are also accepted in many tourist areas, as well as in most hotels, resorts, and restaurants.
Language
The official language is English. Most Jamaicans also speak Patois, a combination of English, French, and Spanish.
Weather In Jamaica
Thanks to its Caribbean location Jamaica is warm all year round, with a tropical climate and temperatures in the high 20s to low 30s in the summer months, and in the mid to high 20s during the winter.
While the weather is virtually always warm, there is some seasonal variation in terms of rainfall.
Getting to Jamaica
Most travellers fly into Jamaica, landing at Norman Manley International Airport in Kingston, or Donald Sangster International Airport in Montego Bay.
Do I require a Visa for Jamaica?
Residents of many countries can enter Jamaica without a visa, including all Commonwealth countries, as well as the USA, Japan, and European countries that participate in the Schengen Agreement.
Residents of all other countries require a visa, and all travellers entering Jamaica must have a valid passport regardless of their country of origin.
Transport
Visitors can get around the island in a variety of ways. Some of the larger cities are connected by rail, but the railway network is not comprehensive, and many locations aren't accessible by train.
Buses and taxis are favoured by locals, and both forms of travel are typically inexpensive and easy to locate.
Many of the resorts and hotels have their own buses and shuttles. It's also possible to hire a car in most of the larger cities, but drivers should be aware that most of Jamaica's roads are not particularly well maintained, and driving can sometimes be hazardous.
Originally posted 2015-11-17 20:07:43.