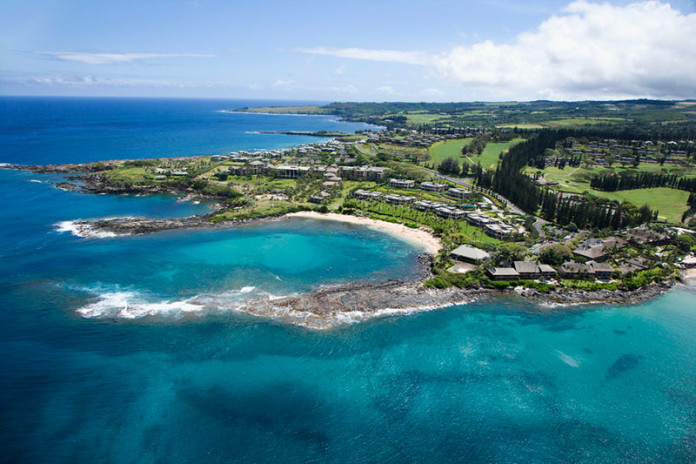 One of the best Holidays available is in Maui, Hawaii, USA. Maui is consistently a firm favourite on virtually every "top ten islands" list, and it's not at all hard to see why. There are few island locations more romantic, exciting, or beautiful, and while Maui is a popular destination for honeymoons and weddings, it's also ideal for family holidays and adventure tours.
Where to Go in Maui
Resorts such as Wailea, located on the south coast of the island, are ideal for luxury holidays in Maui. Wailea features an 18-hole championship golf course, as well as a full range of resort amenities, several luxury hotels, and private residences. As popular a holiday destination as Maui is there's no shortage of holiday homes and villas available for rent, in and around the island's main centres. Many feature fantastic ocean-front locations or views, with excellent access to beaches and nearby activities, and are the perfect way for families and independent travellers to enjoy villa holidays in Maui.
There are also many hotels and resorts that make excellent bases for family holidays in Maui, in particular, those that offer kids programmes. These provide daily activities for children such as hula dancing, singing, and crafts, and provide parents with some alone time for quiet relaxation while the kids are having fun. Maui itself is packed with family-friendly activities, many of which are located in Wailuku, including the Hawaii Nature Centre, which features a range of hands-on exhibits and activities, and the massive 750,000-gallon aquarium at the Maui Ocean Centre.
Apart from the island's beaches, one of the most popular tourist spots on Maui is the town of Lahaina, which is where most of the nightlife can be found. Nightclubs and pubs are not a big part of Hawaiian culture, but there are plenty of restaurants where drinks are served, and some of the larger towns have one or two late-night establishments with live music or dancing.
What to See and Do
Although Oahu's Waikiki is much better known as a surfing hotspot, Maui is also a very popular destination for experienced surfers, at locations such as Honolua Bay, Hookipa Beach, and Peahi, where the practice of being towed into enormous waves has given rise to an entirely new sport.
Beginner surfers can head to beaches in Lahaina, Kihei, and Kaanapali, where the more gentle swells are perfect for novices. Paddle-boarding and windsurfing are also popular watersports at these beaches.
From snorkelling and scuba diving to sailing, whale-watching, and deep-sea fishing, there's no shortage of exciting beach and ocean activities to enjoy in the waters around Maui.
The centrepiece of Maui's Haleakala National Park is an awe-inspiring volcanic crater,

flanked by sensational mountains

, and covered in layers of hardened lava and ash. The park is home to many endangered animal and plant species and overlooks the ocean, where whales, dolphins, and turtles can sometimes be viewed. Haleakala and other national parks are ideal for hiking and exploring, as well as for simply enjoying the scenery.
One of Maui's most popular attractions, located within Haleakala National Park, is Ohe'O Gulch Kipahulu, or, the Seven Sacred Pools. This gorgeous site features waterfalls and pools, some of which are accessible for wading and swimming, and for the brave of heart, cliff-diving. Visit in the morning to avoid the crowds.
Another fantastic national park is Wainapanapa, located east of Kahului. This park features eye-catching black sand beaches, as well as beach-front caves and rock formations.
There are many scenic drives on Maui that are perfect for day trips; one example is the 80-kilometre road that stretches between Kahului on the north coast, and Hana on the east coast, taking in farmlands, lush forests, and black sand beaches on the way.
While many of the

most popular attractions and activities

on Maui are outdoors, there are some fascinating museums all over the island. The Alexander & Baldwin Sugar Museum in Kahului, Bailey House Museum in Wailuku, and Hana Cultural Centre and Museum in Hana, all offer some unique and interesting experiences.
Be sure to attend a luau—an afternoon or evening event that typically features a fabulous Hawaiian feast, and Polynesian entertainment such as fire dancers from Samoa, Hawaiian hula dancers, traditional music, and storytelling. Many resorts feature weekly luaus, and if you have the

time

 tickets to one of these fun events is often included with package holidays in Maui.
Need to Know Info
The official languages of Hawaii are Hawaiian and English, and the unit of currency is the American dollar. Note that while English usage is the same in Hawaii as in the continental American states, there are some subtle differences that can be important when speaking with locals. For example, according to both local custom and state law, when referring to people, the term "Hawaiian" refers specifically to people of native Hawaiian descent, rather than just being a catch-all for people who live on the island. It's best to refer to residents simply as "locals" or "islanders" to avoid confusion or disrespect.
Hawaii's climate is typically warm and mild, although in the summer months the high degree of humidity can make the weather seem hotter than it really is. During the dry season that extends from October to March, temperatures typically range from the late 20s to low 30s. Rain is more frequent during the wet season, which extends from April to September, and temperatures range from the mid to late 20s.
Maui's main airport is Kahului Airport, the second-largest in Hawaii, located on the north coast of the island near the town of Kahului. Many major airlines fly directly to Kahului Airport, and flights to other Hawaiian islands are frequent. As Hawaii is an American state, most travellers will require both a visa and a passport for entry.
Maui's public transport system includes bus routes that travel between communities in the major coastal regions of the island. To travel outside of the main towns, or to head away from the coast to explore inland, it's necessary to arrange some other form of transport. In the more popular tourist regions, bus services are provided by resorts, and there are also shuttle services that travel to popular tourist attractions. There are several major car rental agencies on Maui, and hiring a car, moped, or scooter is both easy and inexpensive.
Best Places to visit in Maui
Road to Hana: A Daytrip Guide
The Road to Hana is one of the most popular tourist attractions in Maui. And for good reason – the winding roads, lush rainforests, and stunning coastal views make for an unforgettable experience. Here's everything you need to know to make the most of your day trip on the Road to Hana.
The Road to Hana is a long and winding road -Literally. The drive itself is about 6 hours if you take your time and stop at all the major sights. We recommend starting your trip as early as possible to make the most of your day. Trust us, you're going to want to spend plenty of time taking in the views!
There are two ways to get to Hana: by rental car or by tour bus. If you have a rental car, we recommend setting off no later than 7am. That way, you can take your time driving and enjoy all the photo ops along the way. If you're taking a tour bus, be sure to check their schedule in advance so you know what time to be at the pick-up location.
Pit Stops Along The Way
There are countless highlights along the Road to Hana, but here are a few of our favorites that you won't want to miss.
Twin Falls
These gorgeous falls are just a short hike from the road. Be prepared to get wet – there's no avoiding getting splashed by the falls!
Haleakala National Park
This park is home to some of the most stunning landscapes on Maui. We recommend taking a quick hike along one of the trails for incredible views of crater lakes and native plants.
Hamoa Beach
This is one of Maui's hidden gems. Hamoa Beach is a secluded cove with turquoise waters and soft sand beaches. It's the perfect spot for a picnic lunch!
Ending Your Journey
Once you reach Hana, there are plenty of options for how to spend your time. Take a dip in one of the many pools and waterfalls, relax on black sand beaches, or explore jungle trails. No matter how you choose to spend your time in Hana, we promise you'll have an incredible experience. Just be sure to give yourself plenty of time to get back on the road – it's all downhill from here!
The Road to Hana is one of Maui's most popular tourist attractions for good reason – it's an absolutely incredible experience! From breathtaking coastal views to lush rainforests and Black Sand beaches, there's something for everyone on this 6-hour journey. Be sure to start your trip early so you can take your time driving and enjoying all the amazing pit stops along the way!
Top 5 Reasons to Visit Kaanapali Beach Maui
Maui is world-renowned for its breathtaking beaches, and Kaanapali Beach is no exception. Here are the top 5 reasons why you should visit Kaanapali Beach on your next trip to Maui.
1. The white sand beach stretches for three miles, making it one of the longest beaches in Maui.
2. With its crystal clear water and gentle waves, Kaanapali Beach is perfect for swimming, snorkeling, and stand-up paddle boarding.
3. The beach is situated in the heart of Kaanapali, Maui's most popular resort area. This means that there are plenty of restaurants, shops, and activity options within walking distance of the beach.
4. Every Thursday evening, the beach comes alive with a free open-air concert series called "Sunset at Haleakala." Visitors can enjoy live music from some of Hawaii's top performers while watching the sunset over the Pacific Ocean.
5. And last but not least, every morning at sunrise, you can witness the ancient Hawaiian tradition of hula being performed on the beach.
Kaanapali Beach truly has something for everyone. Whether you're looking for a romantic spot to watch the sunset or a family-friendly beach with plenty of activities nearby, you'll find it all at Kaanapali Beach. So what are you waiting for? Start planning your trip to Maui today!
Snorkelling Tours in Maui – A Beginner's Guide
Maui is world-renowned for its snorkelling – and for good reason! The island's clear waters, colourful reefs and diverse marine life make it a snorkeller's paradise. If you're new to the sport and wondering how to get started, this beginner's guide to snorkelling in Maui is for you.
Snorkelling Tours in Maui
One of the best ways to enjoy Maui's snorkelling spots is on a guided tour. A number of companies offer half-day or full-day tours that take you to some of the best snorkelling locations around the island. These tours provide all the gear you need, as well as experienced guides who can show you the ropes and point out interesting things to see under the water.
Do-It-Yourself Snorkelling in Maui
If you'd prefer to go it alone, there are plenty of great spots for do-it-yourself snorkelling on Maui. One of the most popular is Molokini Crater, a crescent-shaped volcanic crater that's home to more than 250 species of fish. The best time to visit Molokini is early in the morning, before the crowds arrive and the sun gets too high in the sky. Another great spot for DIY snorkelling is Ahihi-Kina`u Natural Area Reserve, where you can swim among colorful reefs teeming with fish, turtles and other marine life.
What You Need to Know Before You Go Snorkelling
Whether you go on a tour or explore on your own, there are a few things you should know before you hit the water. First, be sure to pack plenty of sunscreen – even if you don't stay in the water for long, the sun's rays can reflect off the surface and leave you with a nasty burn. Second, always be mindful of your surroundings and be sure not to touch any plants or animals you see while snorkelling. And finally, if you start to feel tired or lightheaded while swimming, get out of the water immediately and take a break.
Snorkelling in Maui is a must-do activity for any visitor to the island – and it's easier than you might think! Whether you go on a guided tour or explore on your own, all you need is a little preparation and some basic equipment, and you're good to go. So what are you waiting for? Get out there and start exploring!
Haleakala National Park: A Maui Must-See
Nestled in the heart of Maui, Haleakala National Park is a 10,023-foot dormant shield volcano that last erupted in the early 1800s. The national park spans 30,183 acres and is home to two distinct ecosystems: the summit area, characterized by barren volcanic landscapes and subalpine forests; and the Kipahulu area, which features lush rainforests, bamboo groves, and waterfalls. Whether you're looking to hike, stargaze, or simply take in the stunning views, Haleakala National Park should definitely be on your Maui itinerary.
Hiking Trails for All Skill Levels
Haleakala National Park has over 30 miles of hiking trails that wind through forests of native Hawaiian plants and offer panoramic views of the island. There's something for everyone, whether you're a seasoned hiker or just getting started. For those who want to tackle a more challenging hike, we recommend the Sliding Sands Trail, which descends into the crater of Haleakala. The 6.9-mile round trip hike can be strenuous at times, but it's well worth it when you reach the bottom and are surrounded by cinder cones and lava rocks. If you're looking for an easier hike with equally breathtaking views, try out one of the shorter trails near Hosmer Grove—our personal favorite is Silver Canyon Trail.
Kipahulu Area: A Little Slice of Paradise
The Kipahulu area of Haleakala National Park is unlike anywhere else on Maui. As you drive down into the valley, you'll feel like you're entering another world entirely. Lush rainforests give way to bamboo groves and gushing waterfalls as you wind your way towards sacred pools where Hawaiian royalty once bathed. One of the best ways to experience all that Kipahulu has to offer is on foot via one (or all!) of the five scenic hikes available in the area. Our favorites are Bamboo Forest Trail—a short 0.7-mile loop that takes you through a dense bamboo forest—and Pipiwai Trail—a 4-mile round trip hike that takes you through several different ecosystems and ends at 400-foot Waimoku Falls.
Stargazing at Haleakala Crater
One activity that should not be missed during a visit to Haleakala National Park is stargazing from inside Haleakala crater. On clear nights, visitors can see over 7,000 stars—more than what's visible from anywhere else on Maui. Stargazing tours typically take place around sunset so that you can watch as the last light of day fades away and the stars come out to play. Once darkness has fully set in, telescopes are set up so that visitors can get a closer look at some of their favorite constellations. At 10,023 feet above sea level, Haleakala crater is one of the best places in Maui for stargazing—so don't forget to add it to your list!
Haleakala National Park is truly a hidden gem and should not be missed during a visit to Maui. With its plethora of hiking trails, picturesque bamboo forests, sacred pools, and breathtaking views, there's something for everyone at this national park. And don't forget about stargazing! On clear nights inside Haleakala crater, you'll be able to see more stars than anywhere else on Maui. So what are you waiting for? Start planning your trip today!
Enjoy the Sunshine at Napili Beach
Blog Introduction: are you looking for a place to relax and soak up some sun? Look no further than Napili Beach! This hidden gem is located on the northwest coast of Maui and is known for its white sand beaches and turquoise waters.
Napili Beach is the perfect place to spend a day lounging in the sun, swimming in the ocean, or boogie boarding on the waves. There are also plenty of restaurants and bars in the area if you get hungry or want to grab a drink. So what are you waiting for? Grab your sunscreen and head on over to Napili Beach!
Getting to Napili Beach
Napili Beach is located about 30 minutes from Kahului Airport (OGG). The best way to get to the beach is by renting a car, but you can also take a taxi or an Uber. If you're renting a car, be sure to stop at one of the many gas stations in Kahului to fill up before heading to Napili Beach. You don't want to run out of gas while driving on Maui's winding roads!
Once you arrive in Napili, look for signs pointing towards Honokeana Cove. This is where you'll find Napili Beach. There is plenty of parking available, so don't worry about finding a spot. Just make sure you avoid parking in any spots that are reserved for residents.
Things to Do at Napili Beach
Napili beach is the perfect place to relax and soak up some sun. But if you're looking for something more active, there are plenty of things to do as well. Popular activities include swimming, boogie boarding, stand-up paddleboarding, and kayaking.
If you get hungry, there are several restaurants nearby that offer Hawaii Regional Cuisine made with fresh local ingredients. And if you want to grab a drink, stop by one of the bars in the area like Sea House Restaurant & Pub or Merriman's Kapalua Bar & Grill.
No matter what your vacation plans entail, be sure to add Napili Beach to your list of places to see while on Maui. With its white sand beaches and turquoise waters, it's easy to see why this hidden gem is one of Maui's most popular tourist destinations. So what are you waiting for? Grab your sunscreen and head on over to Napili Beach!
7. Wailea Beach
8. Waianapanapa State Park
9. Hookipa Beach
10. Iao Valley State Park
Do you need a car in Maui?
You can get around Maui by shuttle, tour bus, taxi or public transportation. But to really experience Maui, you should consider reserving a rental car in advance from the Kahului or Kapalua airports.
What hotel in Maui has penguins?
The Hyatt Regency Maui Resort and Spa in Lahaina is the only Hawaiian hotel with an on-site penguin habitat. Come party with the birds — a.k.a. African or jackass penguins — named Oreo, Nahu, Buddha, Zen, Mai, Tai and Momi.
Originally posted 2022-08-10 20:48:39.