Travel to South Africa and make your own African dreams
South Africa is home to the big five, gold mines, Table Mountain, the largest Indian settlement outside of India and world-renowned statesman Nelson Mandela. This majestic country is home to Rugby World champions and world's greatest golfers. South Africa has the best of both worlds, beautiful weather and many diverse cultures, which make for an unforgettable visit.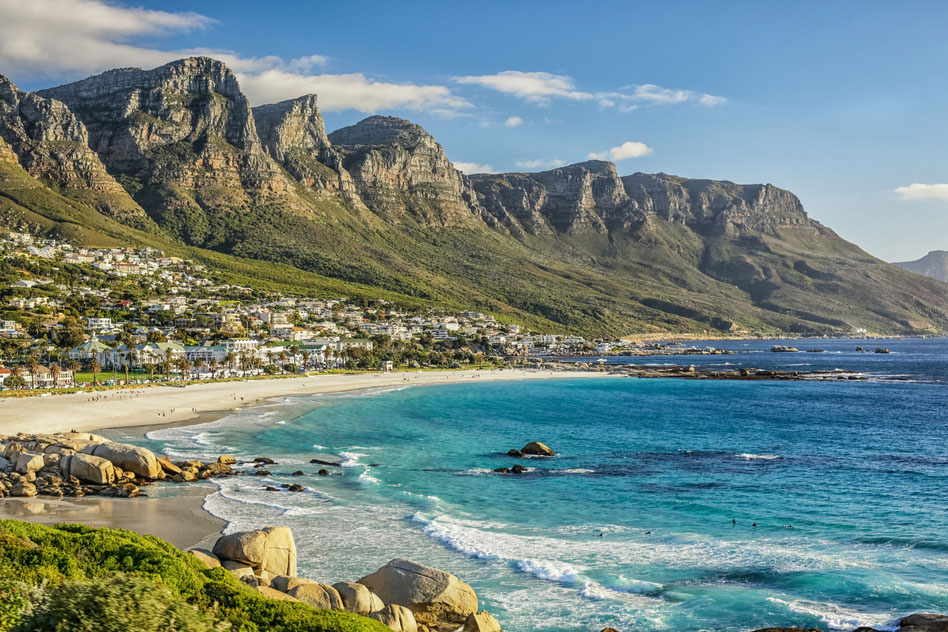 Kwa-Zulu-Natal – The Zulu Kingdom awaits
On the east coast of South Africa lies the ever green KwaZulu-Natal. Here you'll be able to experience the sights and sounds of what it means to live in Africa. The province is also home to the vervet monkey, so make sure you keep kitchen windows closed to avoid losing your bread or fruit. You haven't been to KwaZulu-Natal if you haven't eaten a Durban curry. There are many popular curry restaurants to get a taste of a delicious curry. The Port of Durban is also the busiest port in Africa. Take a harbour boat ride and see the city from the water.

Ten things to do in KwaZulu-Natal
Sardine Run
If the water is cold enough between May and July, you'll be able to catch a glimpse of a natural phenomenon. Sardine travel north from the cold water on the Cape coast. The sardines make their way up the east coast to the Eastern Cape and KwaZulu-Natal. When the sardines come in close people come out in their hundreds to catch their year's bait or for a sardine fry-up. Washing baskets, t-shirts and crates are some of the things people use to catch their fill. It's a great sight to witness the sardine run.
Canopy tour in the Drakenberg
For the adrenalin junkie, why not taking in the sights of Africa and beauty of the Drakensberg from the treetops by riding along a zip line.
Scuba dive
Hit the ocean and explore the ocean, maybe you'll see a giant potato bass, a Hammerhead shark or large eel. There are various dive charters to choose from.
Shark cage diving
Take the plunge and get up close to a great predator of the ocean.
Whale watch
From May to September Humpback whales can be seen all along the KwaZulu-Natal coast. The whales move up from the cold waters in Antarctica to breed in Mozambique.
The Battlefield Route
Revisit the scenes of battles such as the Anglo-Boer war. This is a delight for any history fanatic. Guided tours are available, that would be a great idea. Visit two of the country's most famous battlefields, Isandlwana and Rorke's Drift. It's at these battlefields that the mighty Zulus armed with spears defeated the British forces.
Hot air balloon ride
Get your head in the clouds with an amazing ride on a hot air balloon where you'll get picture-perfect views of the Drakenberg. Drifting so high up you can almost touch the birds!
Adrenalin rush activities
Get your thrill on with the 'Big Rush Big Swing' at Moses Mabhida Stadium. Not for the faint-hearted is the Oribi Gorge swing, where you plunge down a waterfall.
Rickshaw ride
Take a rickshaw ride along Durban's beachfront, where Africans in traditional attire and magnificent head gear pull you along while you enjoy the scenery.
Midlands Meander
Drive through the rolling hills of KwaZulu-Natal and stop off at the many craft shops and visit the Nelson Mandela Capture site just outside Howick.
Things to know about KwaZulu-Natal
KwaZulu-Natal's summers are fantastic, with temperatures reaching 30 degrees most days. Ensure you stay hydrated and frequently apply sunscreen while you're basting in the sun. Winters are not very cold with temperatures reaching 25-26 degrees.
Tour the beautiful Western Cape
Magnificent Table Mountain, wine route, delicious seafood and sun are all yours to enjoy when you set foot on Cape soil. The Western Cape is a wine drinker's paradise with a variety of wine farms to tour and pick your best wine. Be sure to stop off at the V&A Waterfront in Cape Town to feast on anything from crayfish, fresh fish and many superb restaurants.
Summers are hot, with the sun setting after 10pm. Winters are chilly, but there's always plenty to do in the Western Cape region.
Eight great experiences of the Western Cape
Table Mountain
Hop a cable car and head to the top of Table Mountain. See the majestic Cape from high above. The mountain-top is the perfect place to watch the sunset. Even better, there's a café to enjoy food and beverages while feasting your eyes on the view.
Wine tours and tastings
If you're a wine connoisseur or drink it just because it tastes great then this excursion is a must. Exceptional wines and brilliant scenery will have you wishing you could stay in the Cape forever. Wine guides help you live your love for wine. Visit some of South Africa's top wine estates and discover the secrets of South African wines. There are over 20 places you can visit for wine tasting. Get your wine on!
Bay Harbour Market
The Bay Harbour Market in Hout Bay is a great place for food lovers to explore the tastes of the Cape.
Hike up Lion's Head
Well-marked trails will lead you to the top of Lion's Head, where you can sip sundowners and watch the sunset. This is a favourite spot among the locals.
Shimansky Diamond Tour
Watch how rough diamonds are used to make jewelry at the Clock Tower at the Waterfront.
South African National Gallery
This gallery houses art from South African, British, French and Flemish art. Walk through the gallery and browse historical paintings and sculptures and contemporary art.
Kirstenbosch National Botanical Gardens
This 36-hectare garden is part of a nature reserve set in the eastern slopes of Table Mountain. It's home to a variety of animals and birds. Great for a picnic and to explore the unique flora of southern Africa.
See penguins on Boulders Beach
Visit this clean and tidy beach and get to see penguins. Boulders Beach forms part of the Table Mountain National Park Marine Protected Area. A brilliant spot to take children.

Things to know about South Africa
The exchange rate is very favourable for overseas tourists. South Africans are friendly and a barbeque is popular. It's advised not to carry large amounts of cash with you. With eleven official languages, tourists don't have to worry about people not speaking English. Something all tourists should try when visiting South Africa is Biltong. It's dried game meat, which is very popular. Ensure you have read the visa requirements for entry into South Africa, as the South African government recently amended visa requirements. Many foreign tourists think South Africans have Elephants and Lions roaming in their gardens. That's simply not true.
Originally posted 2015-12-02 10:11:42.