With its sparkling sand and clear water, Mauritius is unarguably one of the world's most beautiful island countries.  A true feast for the eyes.
Whether your ideal holiday involves relaxing on a gorgeous beach, enjoying the resort lifestyle, or seeing as much as possible of everything the island has to offer, Mauritius has it all, and more.
Family holidays in Mauritius are packed with exciting activities, with opportunities for water-skiing and surfing, diving, dolphin-watching, and going on a safari day trip, with something for everyone to enjoy.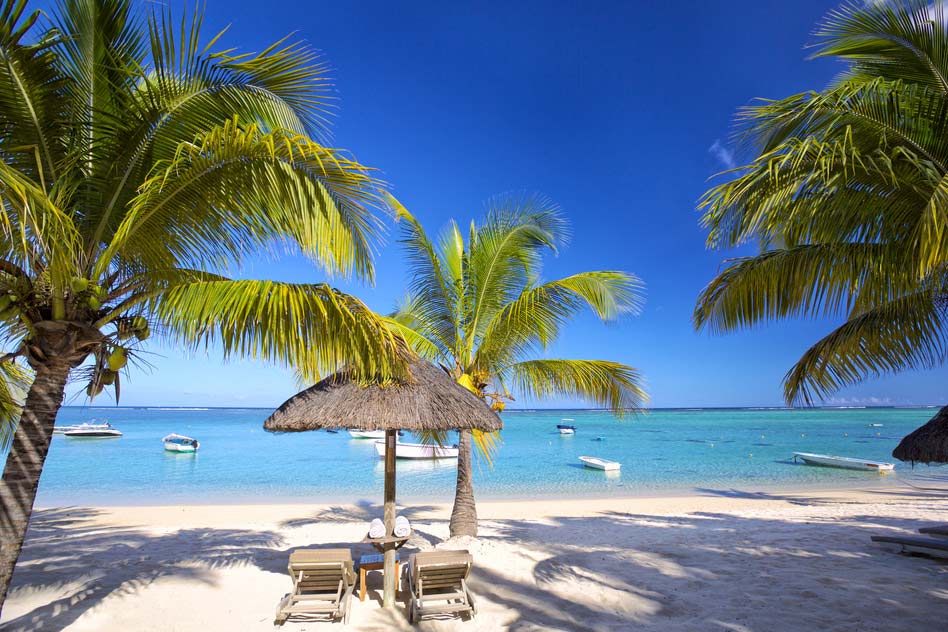 Where to Go in Mauritius
As one of the world's most popular destinations for luxury holidays, Mauritius is home to many luxury resorts, in some incredibly beautiful places. Most luxury accommodations can be found right on the beach, either on Mauritius itself or on one of the small offshore islands such as Ile Aux Cerfs, known for the exceptional beauty of its beaches.
It's not just the white sands and blue waters that provide stellar views; Chamarel is easily one of the most beautiful places in Mauritius, with its main tourist attraction a multicoloured landscape of yellow, green, red, and blue sand dunes that is the result of erosion of layers of built-up volcanic dust. The beauty of this region is the perfect backdrop for villa holidays in Mauritius, along with beach-front communities such as Tamarin and Flic en Flac, where water sports such as diving are popular pastimes.
Many package holidays in Mauritius include accommodation at a beach-side resort, and there is a wide variety to choose from. Mauritius has many gorgeous beaches, including Pereybere in Grand Bay, popular not only for the beach itself but also for the nearby restaurants and bars. Hotel Pereybere is based at this beach and is highly recommended.  The eastern part of the country is also well-known for its beaches and its 5-star luxury resorts. Blue Bay in the southeast has incredible beaches with white sands and the bluest of blue waters and is a favourite with locals as well as visitors.
What to See and Do in Mauritius
Grand Bay is one of the island's most popular tourist areas, with plenty of shopping and leisure activities. It's also where locals go for a great night out, thanks to its many restaurants, bars, and nightclubs. The Caudan Waterfront is another good place for shopping, particularly for buying souvenirs. There are plenty of other fun activities to enjoy here too, particularly for kids.
Check out the Bazaar of Port-Louis for local foods, traditional handmade crafts, and other goods. The country's biggest and busiest open-air market is in the eastern region in the village of Flacq.
Swimming and other water sports are always popular leisure activities, at the many gorgeous beaches on every coast. Some of the best surfing waves are at Tamarin beach on the west coast, where both novices and more experienced surfers can be found catching waves. Tamarin beach is also home to a pod of dolphins that are often known to interact with boats and swimmers. Ile Aux Cerfs, a small island off the eastern coast of the country, is one of the most popular places for water sports and is also known for its exceptionally beautiful beach.
The fishing village of Flic en Flac is popular for scuba diving, with some excellent scuba sites situated near the local beach. Explore coral reefs, shipwrecks, and a plethora of marine plants and animals at Flic en Flac, and other dive sites around the coast such as Whale Rock and Trou aux Biches.
Botanical Gardens such as the SSR and the Labourdonnais Orchards. The orchards are full of fragrant fruit trees and exotic flowering plants, and the SSR, as the southern hemisphere's oldest botanical garden, is the best place to see specimens that are native to Mauritius, as well as tortoises, fish, and deer.
Several rare animals, including the pink pigeon and the Aldabra giant tortoise, along with many other animals, can be seen at ile aux Aigrettes Mauritius Wildlife Foundation. Casela Nature & Leisure Park is another great place to see native wildlife, as well as exotic species from other continents, and to take part in activities such as quad riding and zip lining.
Go on safari, with a Jeep or quad bike trip at the Yemen Natural Reserve Park on the west coast, to see zebra, ostriches, deer, monkeys, antelope and other animals, and stunning landscapes.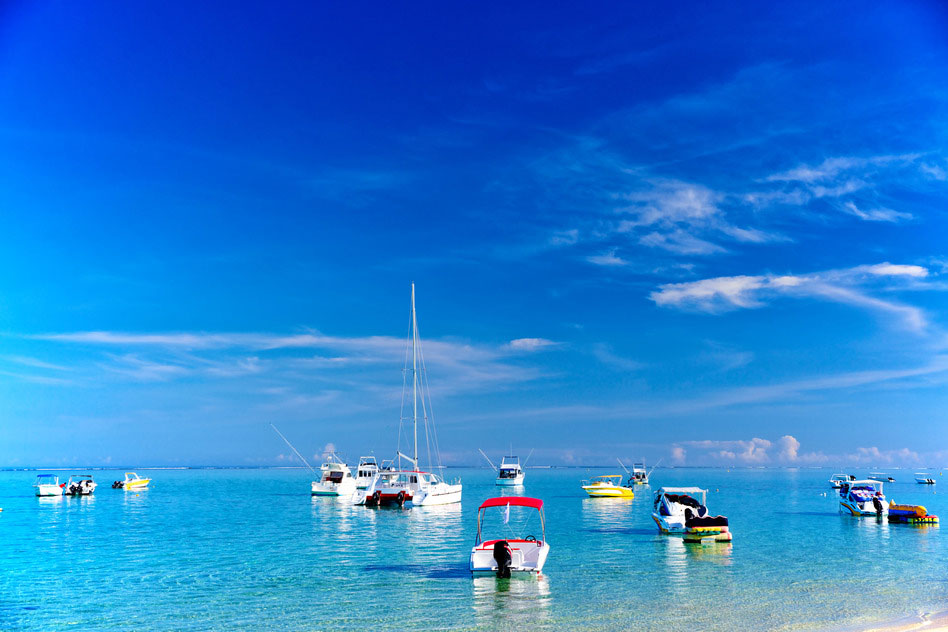 Need to Know Info
Mauritius does not have an official language; languages spoken in the country include Mauritian Creole, French, English, and Bhojpuri, and the majority of the population can speak both English and French. The currency of Mauritius is the Mauritian rupee.
The climate of Mauritius is mainly tropical, with a warm summer season and a cooler winter season, although there is not a large difference in temperature throughout the year. In the summer months, from November through to April, temperatures are typically in the mid to high 20s. June through to September is the cooler winter season, with temperatures in the high teens and low 20s. The interior of the island tends to be cooler due to its higher elevation, and the eastern side, which is exposed to trade winds, is also cooler.
The main point of entry to Mauritius is the Sir Seewoosagur Ramgoolam International Airport, which is located in Plaisance, and many international airlines fly directly to this airport. Residents of many countries, including the UK, USA, and Canada, and many European, African, Asian, and Pacific nations, do not require a visa for entry. Most other countries can obtain a 60-day visa upon arriving in Mauritius. Regardless of visa requirements, all travellers must hold a valid passport to enter the country.
In cities and towns, the most efficient way to get around is by taxi and bus. The public transport system is comprehensive, with buses travelling both within and between the main centres. Taking a taxi or hiring a car is typically the best way to see and visit various locations around the island, particularly outside towns and cities. The islands of Rodriguez and Reunion are both close enough for easy access via passenger ship, and some ships also regularly travel to Madagascar.
Capital: Port Louis
Dialling code: +230
Area: 2,040 km²
Currency: Mauritian rupee
Continent: Africa
Prime minister: Anerood Jugnauth
Originally posted 2015-10-07 19:54:36.