Bora Bora is one of several islands that belong to the Society Islands group of French Polynesia. Our Bora Bora travel guide will give you the essential information you need for your trip.  Encircled by a lagoon within a barrier reef, the island has become an internationally renowned tourist destination, and a haven for all kinds of water activities, in particular, diving and snorkelling. The barrier reef that surrounds Bora Bora is a major contributing factor to the island's excellence as a diving and snorkelling site, as the waters of the interior lagoon are consistently calm, and thanks to the warm weather, the water is generally warm too.
Where to Go while in Bora Bora
Bora Bora's well-deserved international reputation as a premier tropical destination means it is a popular option for honeymoons, romantic getaways, and luxury holidays. In Bora Bora, life is slow and relaxed—locals are friendly and easy-going, days are warm and sunny, and the most popular pastimes involve the water in some way. Several resorts are built on small islands—called motu—that surround the main lagoon, and many of these feature the over-water bungalows that have come to be closely associated with Bora Bora.
While most resorts and private villa holidays in Bora Bora are centred around aquatic pursuits, there are some land-based activities and attractions that are well worth seeing. Many activities are located off the main island, on adjacent islets.
What to See and Do Bora Bora
Diving and snorkelling in the calm

, clear waters of the Bora Bora lagoon provide the opportunity to see a wide range of marine life, from energetic schools of fish to rays,

Bora Bora sharks

, turtles and many other creatures. One of the most accessible places for snorkelling is an extensive coral reef on one of the islets adjacent to Bora Bora, known as the Coral Gardens. Other popular water activities include boating, kayaking, jet skiing, and more.
Inexperienced divers can opt for a guided tour of the "lagoonarium", which is a section of the lagoon that has been partitioned to create an enormous aquarium. Divers are accompanied by a guide as they swim with sharks, turtles, and other marine animals that live in the waters. There are half-day and full-day tours, with additional options such as canoe tours and barbecue meals.
Several aquatic tour companies offer stingray and shark feeding encounters as well as snorkelling and other activities. These typically involve smaller sharks and rays, in shallow water, and each group is accompanied by an experienced guide.
Customized boating tours, including both half and full-day programmes, can include a wide range of activities, including snorkelling and diving as well as deep sea fishing, and meals aboard the boat. Glass-bottom boat tours provide an opportunity for young children, and people of all ages, to view the amazing variety of marine life from above the water.
Few people visit Bora Bora to spend time in town, but a visit to the small town of Vaitape—the island's main settlement—is definitely worthwhile. The lagoonarium is located here, as well as restaurants and shops, including Sibani Perles, which sells the black pearls that the region is famous for.
Take a break from the water to head inland, with a visit to the summit of Mount Otemanu, an extinct volcano at the heart of Bora Bora. The mountain is well over 2,000 feet high, and can be accessed in a variety of ways—hiking on foot, on a 4×4 tour, or by viewing from above in a helicopter. Hiking up the mountain can be an incredible experience, although, as the 4×4 ride is much quicker, it leaves more time for enjoying the view at the top.
Other options for 4×4 adventures include full and half-day guided tours, including cultural tours with plenty of interesting information about the island, and evening tours of the best island locations for viewing the stunning sunsets.
The night life on Bora Bora is limited, with only a small number of drinking venues, and just one nightclub; however, those who opt for resort accommodation will generally have additional options for evening activities.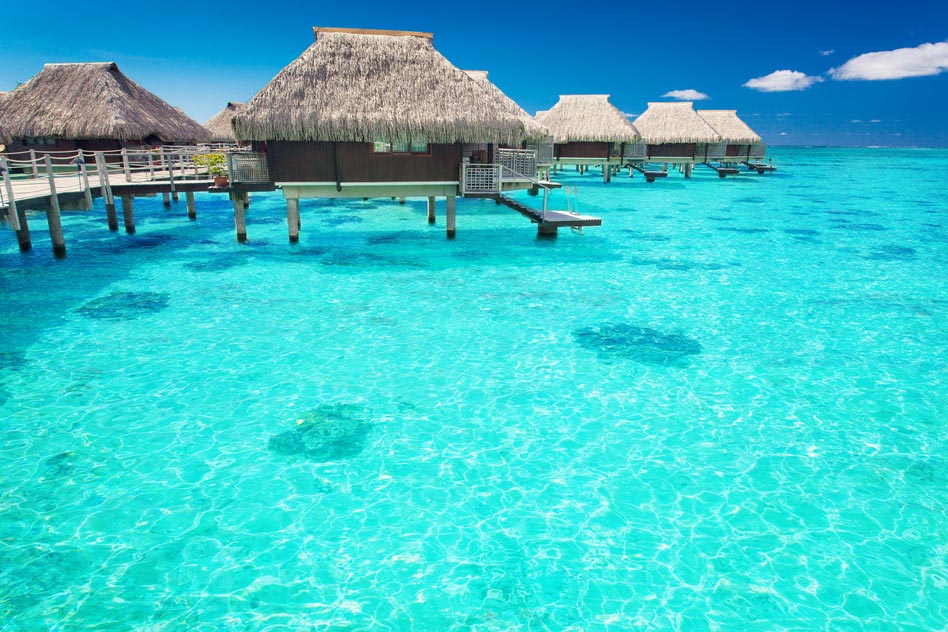 Need to Know Info – the travel guide
The primary languages spoken by Bora Bora locals are Tahitian and French, but most people who work in tourism also speak English. The unit of currency in Bora Bora is the French Pacific Franc; in some cases, the US dollar may also be accepted.
As package holidays in Bora Bora tend to be all-inclusive resort-style holidays, many visitors find that most activities and excursions can be paid for by credit card, and they need only bring a small amount of cash with them. However, travellers planning self-catering family holidays in Bora Bora should note that everyday food and goods tend to be very expensive; while it may seem counter-intuitive, it can be cheaper to bring non-perishable goods to the island, rather than buying them there.
Bora Bora's climate is tropical in nature, with two main seasons: the warm and wet season from November through to April is when most of the year's rainfall occurs, with high humidity and an average temperature of 30 degrees. May through to October, when the weather is a few degrees cooler and mostly dry, is the peak tourist season.
There's a single small airport on an islet near Bora Bora, where flights land from nearby Tahiti, but there are no international airlines that fly directly to Bora Bora. Once at the airport, travellers take a ferry to get to the main island. All visitors require a passport to enter French Polynesia, but visa requirements are waived for residents of some countries, including the UK, USA, and Canada.
As Bora Bora is only 30 square kilometres in size, it doesn't take long to get from one place to another. Public transport is limited, with just one bus that travels between the island's main points. Many resorts are located on small islets near the main island; people staying at these resorts typically have access to a ferry to transfer to any from Bora Bora itself. It's possible to rent small cars and bicycles for independent exploring, but as only one or two of the island's roads are sealed, it's best to drive or ride with caution.
Where is Bora Bora?
The South Pacific island of Bora Bora is a small, peaceful location that lies in French Polynesia.
Surrounded by sand-fringed islands and protected by coral reefs from both above sea level as well underwater ones, such as its lagoon, which provides scuba divers with amazing opportunities for exploration!
The volcano at center stage doesn't just offer incredible views though; it also functions much like an active shield against aggressors so visitors can enjoy their time here worry-free while enjoying luxury accommodations overlooking swelling waves or sparkling waterfalls depending on what suits you best!
When it comes to natural beauty, there are few places on earth that can compare to Bora Bora. The island is surrounded by pristine white beaches, and the waters that encircle it are beautiful turquoise. In the center of the island is Mt. Otemanu, a volcano that provides a breathtaking view for those who are lucky enough to see it.
Bora Bora is a popular destination for those who enjoy scuba diving, as the coral reefs around the island offer a unique and beautiful underwater experience. The resort accommodations on the island are among the best in the world, and there is no shortage of activities to keep visitors entertained. Whether you want to relax on the beach, explore the island, or go scuba diving, Bora Bora is the perfect place for a vacation.
Originally posted 2015-10-22 15:28:31.